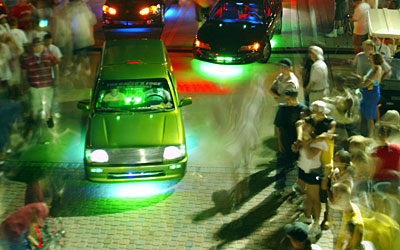 The 18th Annual Spring Break Nationals (SBN) will take place in Daytona Beach on March 26th, 27th and 28th. The 7th Annual SBN Glow-Off Competition sponsored by Street Glow will once again be held on the Historic Bandshell right along Daytona Beach beginning at dusk this Saturday night, March 27, 2004.
Street Glow began hosting formal Glow-Off competitions in 1996, capitalizing on the trend started by local car enthusiasts. Lighting enthusiasts enter their cars to show off the best and most innovative uses of Auto-Neon and lighting for trophies and prizes. When it comes to a Glow-Off, you can have any kind of lighting on your ride. It's up to the contestant to show the judges just how creative they can be.
The Annual SBN Glow-Off Competition represents the largest of the 2004 season. There will be an open judging class with 1st through 3rd place trophies awarded for each of the following: Best Interior Lighting, Best Exterior Lighting and Best of Show. Competitors will vie for trophies and cash prizes: $500.00 first place, $250.00 for second and $150.00 for third.
The Glow-Off roll-in will begin at 6:45 pm SHARP. Competitors will meet and stage their vehicles in a pre-designated area around the Ocean Center. Here they will be given instruction before following a police controlled caravan across the traffic of A-1-A to the Boardwalk approach. At this time they will be escorted over the boardwalk to Oceanfront Park where they will be staged. Competition judging will begin at 7:30 and run until completion when the winners are announced and awarded.
"If you can only compete in one Glow-Off all year, Spring Break Nationals is the place to glow. It is the premier competition in Auto-Neon and performance lighting, as it is in car audio and bikini contests," stated Street Glow's CEO/Founder Jack Panzarella. "Our fans wait all year to head to Daytona and partake in the excitement and see all the new gear, technology and tools to trick their rides."
On Saturday, March 27, 2004 from 3:00 PM to 5:00 PM at Street Glow's outside exhibit area, the Bullish Motor Racing Team, the 2003 National Hot Rod Association (NHRA) and 2003 NOPI Drag Racing Association (NDRA) sport compact drag racing champions, will be available for an autograph session. Team owner and driver Ara Arslanian is the 2003 NDRA XBOX Cup Pro Compact Champion and the runner-up in the Pro RWD Class of the NHRA Sport Compact Series. Teammate George Ioannou is the 2003 NHRA Summit Pro RWD Champion and the runner-up in the NDRA Pro Compact class. The twin, record-setting Street Glow sponsored Solaras, that have recently dominated the top echelon of professional sport compact drag racing, will be on display throughout the weekend, along with the Bullish Motor Racing Team Big Rig.
Always held on the peak weekend of Daytona's Spring Break, the SBN show floor and the surrounding areas of Ocean Center are filled with exhibitors, all fighting to impress today's auto enthusiasts. At Booth 605, Garnett, Street Glow's model, will be available for autographs and photos, so remember to bring your favorite magazine cover, calendar or anything you'd like her to sign. For the thousands of spectators clamoring to see the latest from Street Glow, the booth will play host to Street Glow's Mini Cooper, while the Advance Auto booth will house the OPTX by Street Glow Mini Cooper -- stop by for Street Glow giveaways.
Street Glow defined a new category in the automotive aftermarket with the introduction of Auto-Neon and has since inspired a new generation of enthusiasts with its extensive line of performance lighting products. Their cutting-edge line of Street Glow and OPTX by Street Glow branded products continues to drive new automotive lighting trends and showcase the popularity of this emergent category.