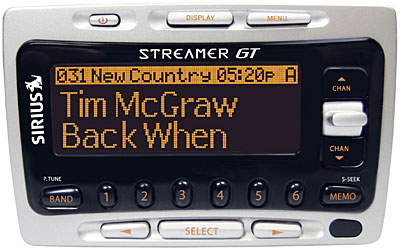 In your truck, car or home, bring the vast world of satellite radio in your hand. Streamer GT brings affordability and portability to satellite radio. Users will have always-on access to more than 120 channels of Sirius Satellite Radio's commercial-free music, sports, information, and entertainment.
Featuring a three line full display, unique for satellite radio products of this size, the Streamer GT also sports an ergonomic toggle control for easy channel changes while driving and even wearing gloves. The Streamer GT weighs six ounces and has thirty presets to store your favorite channels. The Streamer GT is also equipped with a built-in wireless FM transmitter with 100 frequencies, which allows the Streamer GT to play through any FM radio.
The Streamer GT is available now for a retail price of $129.95. Sirius Satellite Radio subscriptions costs are $12.95 per month, with discounts for up-front payments of a year or more.