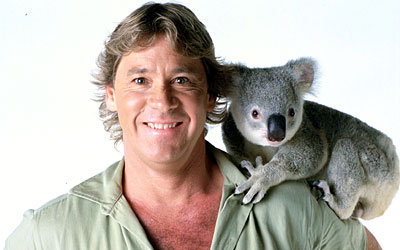 Australian Steve Irwin and some of his country's most famous animals will star in two special presentations at G'Day LA: Australia Week's Aussie Travel Expo in January.
Along with Steve Irwin's show, the Aussie Travel Expo will feature an interactive travel marketplace, The Ten Tenors and a real taste of Australia.
The two evenings begin with Irwin hosting a live onstage talk with some of Australia's most beloved and feared animals, giving an insightful look into his Australia and wildlife conservation efforts.
The Crocodile Hunter, known for his action-packed adventures, is serious when it comes to wildlife conservation. His Steve Irwin Wildlife Fund works to protect the world's wild animals and their habitats.
Steve Irwin further explained one of the show's main themes.
"We want to make people aware all over the world about the environment and just how precious it is -- all of it!" Irwin said.
"I want to share my experiences as a wildlife warrior and talk about wildlife rescue recovery and my experiences in Australia," he continued.
In fact, all net proceeds from the two performances will go to the Steve Irwin Wildlife Fund.
After the show, people can learn more about traveling to Australia at the Expo's marketplace -- a one-stop shop of Australia's top hotels, tour operators, study abroad programs, cities, and experiences.
A taste of Australia will also be on hand with fun Aussie food and the unmistakable charm of The Ten Tenors, an Aussie group of ten singers who aren't afraid to have a go.