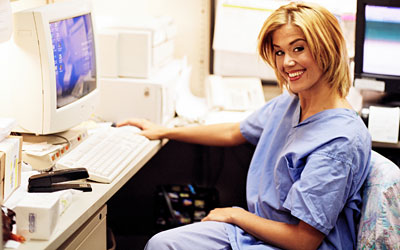 As a premier provider of Windows XP, Microsoft's new operating system, Staples today announced its complete Windows XP offering, including online purchasing at Staples.com, free products and services with the purchase of Windows XP, and Learning Centers to help small businesses and consumers learn more about Windows XP. The operating system is available for purchase online or by phone starting today for next-day delivery and in Staples stores nationwide starting October 25, the worldwide launch date.
Windows XP Learning Centers are located in more than 1,000 Staples stores throughout the U.S. Customers can now learn all about the new operating system by visiting their local Staples store or by visiting the online Windows XP Learning Center at Staples.com, launched earlier this month. In addition, Staples is offering a free "autodemo" CD-ROM from Microsoft Corp. that also tests PC compatibility to ensure an efficient upgrade to the new Windows XP platform.
Staples is offering customers up to $645 in free products and services after rebates with a purchase of Windows XP Home Edition or Windows XP Professional. These offerings include free installation, MSN Internet Access, PC memory, software, and a choice of peripheral products including a digital camera package, CD-RW drive package, Palm pilot package or networking hardware.
"Windows XP is the next generation of operating systems for small businesses and consumers," said Jonathan Magasanik, senior vice president of merchandising for Staples. "Windows XP Home Edition and Windows XP Professional are packed with the power to change and enhance the user approach to computing with new `experiences' such as simplified support for networking, digital imaging and CD burning. Staples' free offerings combined with our Learning Centers, both online and in stores, help customers get going with the Windows XP experiences. And, as always, customers can shop however they choose - online, in stores or by catalog."
"Microsoft is pleased to be working with Staples to deliver a great computing experience to our customers," said John Frederiksen, general manager of Windows marketing at Microsoft. "Staples provides a compelling set of offerings to help small businesses and consumers get up and running with the next revolution in personal computing."
Staples knowledgeable store associates combined with the new in-store Windows XP Learning Centers offer comprehensive information to help customers evaluate their computing needs, and make more informed buying decisions about Windows XP. By introducing the Learning Centers, Staples provides a consultative role to help customers determine which edition of Windows XP (Home Edition or Professional) is the right one for them. Staples will also assist customers in exploring the new user experiences made possible by Windows XP, such as CD burning, digital imaging, networking, Internet access via MSN version 7, and handheld computing with Pocket PC, as well as the benefits of upgrading with Intel Pentium IV.
Staples' Windows XP program also expands Staples' relationship with MSN, the leading consumer network in the world with more than 250 million unique users, bringing MSN Internet Access promotions to Staples customers. MSN is Staples preferred provider of Internet access and Internet access devices, such as MSN Companion.