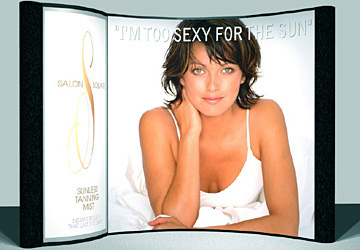 A new tanning mist debuted this weekend at America's Expo for Skin Care and Spa in Chicago.
With Salon Solatte, eye-catching tans are applied at home - or on the road - without a ray of sunshine or ultra-violet radiation. Instead, this new tanning mist from the company that invented hairspray relies on FDA-approved dihydroxyacetone (DHA), a sugar-based active ingredient that blends with the skin and makes it turn lustrous shades of bronze that last for up to 10 days with each application.
"There is no question that most people equate tans with great looking skin," said Judy Albazi, vice president of Chase Products, the company that makes Salon Solatte.
"Salon Solatte offers an elegant answer," she said. "With a single mist, you get the most luscious-looking tans, and yet you never once have to expose your skin to damaging UV radiation."
The new mist is fragrance-free and is the only tanning spray on the market that contains a wash-away colorant that helps users keep track of where they are applying their tans. The colorant washes off the skin and clothing.
The spray, which tan lovers can use for full body tans or touch-ups, means the end of tans that fade and tan lines that never seem to go away. In fact, Salon Solatte users will be able to mist their way into their most revealing wardrobes with fresh, luxurious skin color . . . and not a hint of yesterday's garden or tennis tan.
The new aerosol tanning mist is being launched with day-long product demonstrations and sample distributions to skin care and spa executives at Salon Solatte's booth at the Expo.
In addition, Salon Solatte will be the subject of a trade and consumer print advertisements that feature model Connie de Bies showing off her tan.
The graphics are designed to appeal to people who realize that bronze is beautiful.
Salon Solatte will be available this summer at better salons everywhere. The product is being distributed by Four Seasons, the nation's largest tanning salon distributor.
Chase Products manufacturers aerosol products in a wide variety of categories including health and beauty aids.