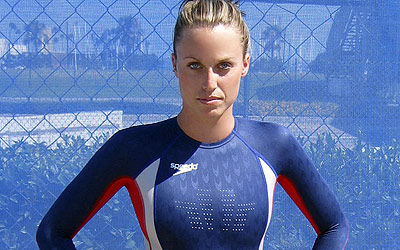 Olympian Amanda Beard
Olympic gold medalists Rowdy Gaines and Janet Evans showed the 2004 U.S. Olympic Swim Team swimsuits today at Bloomingdale's in New York. The athletes modeled the official red, white, and blue Speedo Fastskin FSII suits.
These swimmers, along with coaches and leading experts from around the world, played an important role in the creation of the suit which has undergone the most advanced testing and analysis ever seen on a swimsuit. It has proven to be faster than all others it will race against in Athens and could be the difference between a gold medal and fourth place.
Speaking about the new suit, swimmer Michael Phelps said: "I believe Speedo's suit and equipment innovation is the best in the world and being able to wear Fastskin FSII, the latest in swimwear technology, will certainly contribute to my overall performance in Athens this year."
The Olympic team's Fastskin FSII suits are the same design now available to consumers in a high-tech color palette of cool gray, silvery white, and glowing lime green.
"This swimsuit has been eagerly anticipated by serious athletes around the world," noted Craig Brommers, vice president of marketing for Speedo. "Now, for the first time, Speedo brings this world-class, Olympic standard technology to consumers."
The Speedo Fastskin FSII will retail for $400 long sleeve and $320 sleeveless.
28 of 33 Olympic Gold Medals in competitive swimming were earned in Speedo at the 2000 Sydney Olympics.