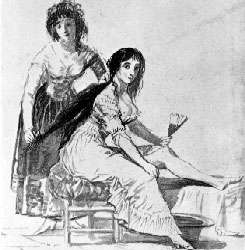 Three centuries of drawings from Spanish masters are brought together in Window onto Spain: Drawings and Prints from Ribera to Goya, at the Getty Center from February 17 through May 16, 2004. The exhibition explores the little-known art of Spanish draftsmanship, tracing its development from the Renaissance and culminating in the graphic genius of Goya in the 19th century.
The range of works on display illustrates the rich diversity of Spanish drawings, revealing the absorption of international influences and the variety of techniques used. Spanish drawings convey complex artistic styles from both Italy and Northern Europe, yet these were tailored to suit local needs, creating a distinct graphic vitality. The exhibition includes examples produced at three of Spain's major centers of art -- Valencia, Madrid, and Andalusia -- and also features rare drawings from Goya's private albums that reveal his personal reflections on the turbulent society in which he lived.
Twenty-five works are assembled from the Getty's collection of Spanish drawings, which is one of the strongest in the nation. They are joined by two prints from the Grunwald Center for the Graphic Arts at the UCLA Hammer Museum.
Until recently, Spanish drawings before Goya were largely overlooked, in some measure because few drawings by Spain's most famous painters have survived. Over the past decades, however, scholars have taken a closer look at Spanish drawings, and these fascinating works of art are now attracting the attention they deserve.
Situated at the crossroads of Europe, Spain was open to many foreign influences, which had a unique impact on different parts of the country. In Valencia, the close economic and artistic links to other countries, especially Italy, resulted in works that blended the influence of Italian Renaissance artists with Spanish interpretations. In Madrid, the capital of Spain, foreign painters from various regions arrived to participate in royal projects, giving the city a truly international flavor. The drawings from Madrid and the surrounding Castile region reflect the rich artistic influences operating in and around the court. In Andalusia, a communal style developed, promoted by artistic interaction between the regional cities of Seville, Granada, and Cordoba. The dominance of individual workshops in large centers, such as Bartolome Esteban Murillo's studio in Seville, exerted this strong regional style.
Spanish drawings share many of the characteristics of Spanish paintings, including dramatic use of light and dark, incisive humor, and unsparing realism. Artists such as Murillo and Antonio del Castillo shaded their drawings with networks of lines that evoke dynamically shifting illumination. Jusepe de Ribera's An Oriental Potentate Accompanied by His Halberd Bearer satirizes the pitfalls of self-importance, with a humorous touch accentuated by brightly colored red ink. This Spanish fondness for satire and depicting life's realities found its most brilliant expression in the graphic work of Goya.
Francisco Jose de Goya y Lucientes (1746-1828) created drawings as a private creative outlet on a scale unprecedented at the time. He placed them in albums that originally included some 550 drawings whose existence became known only after his death. Recording his response to his turbulent surroundings, these drawings range from humorous satires to biting political commentaries. Now scattered throughout the world, they celebrate the vastness of Goya's genius. Window onto Spain includes drawings from five of Goya's eight private albums, evoking the scope of the master's subject matter and the brilliance of his spontaneous technique. Goya captured images from the beautiful to the frightful, comic to pitiable, and larcenous to brutal. In He Can No Longer at the Age of 98, taken from an album devoted mostly to depictions of witches and old women, Goya draws a bent and frail old man, surrounded by the void of the blank white paper, which enhances the figure's sense of loneliness and isolation. They Are Dying expresses Goya's outrage at the pathetic sight of people dying from starvation. Using black crayon, Goya experimented with dark tonalities, accentuating the wretchedness of the scene with smudging and shading.
A great number of Spanish drawings were created as preparatory designs for paintings, prints, and monumental sculpture. On view are Carreno de Miranda's Christ Baptized, which was made as a study for a painting; Francisco Rizi's Study for a Ceiling with the Virgin and Christ in Glory was probably for a church; Pedro de Mena y Medrano's highly finished Study for a Statue of Queen Isabella was preparatory for a sculpture now in the Cathedral of Granada; and Antonio del Castillo y Saavedra's Study of Four Male Heads might have been intended as a study for an engraving.