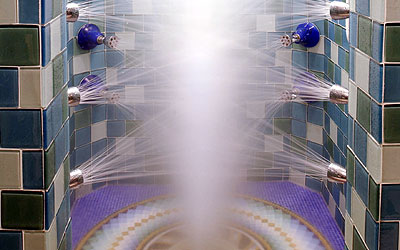 The Spa at The Broadmoor is a perfect marriage of European elegance and Western hospitality. When they opened almost 10 years ago, they were one of the first hotel amenity spas at the Five-Star level and we set the standard for elegance and service that was emulated throughout the hospitality industry. Through this redesign by world renowned spa designer TAG Galyean, the spa has set the standard once again by transforming our existing facility into not only one of the largest in the industry, but what surely is the most elegant. In fact, the immediate impression upon entering The Spa at The Broadmoor is unmatched elegance -- an over-the-top, exquisite setting which offers the highest quality of massage services in the world today, accompanied by the standard of service that defines what is most special about their unparalleled resort.
Renovations have included the following features:
Six new massage rooms (each with Venetian chandeliers)
Three new facial rooms (each with Venetian chandeliers)
New showpiece couples' massage room with Venetian chandelier, fireplace, sitting area and warm, elegant decor.
Two new TAG Galyean $100,000 SilverTAG Serenity Showers with detailed Vita Nova tiled mosaic floor. Completely computerized hydrotherapy shower with 19 shower heads customized to each guest's body shape and water pressure preferences. Includes a choice of tonic treatment (water becomes increasingly warmer to relax muscles to suddenly an invigorating cool and then back to very warm) or anti-stress treatment (strong jets of water start on shoulders and then slowly move up and down your body to reduce muscle tension).
Exclusively patented Tranquility Tubs with overflow infinity edge for soaking hydrotherapy treatments.
Increased locker facilities on the ladies' side adding 84 new half lockers and two private dressing rooms.
Four additional showers in the ladies' locker room. All six showers are private and feature elegant fixtures and a separate changing area.
Luxurious new private restrooms in the ladies' locker room that include individual pedestal sinks and gilded mirrors.
Expanded Spa entrance with customized wrought iron entrance gates, hand-painted wall mural in the style of Maxfield Parish, marble floors, custom hand-knotted area rug, grand Venetian inspired Murano crystal chandelier, tufted round sofa, tasteful inset retail displays with indirect lighting, and marble-topped registration desk with crystal lamps and recessed computers.
Completely renovated and extended Quiet Room featuring a Venetian- style sitting room with touches of blue and green to maximize relaxation following treatments. This will no longer be an area to wait prior to treatments but to recover afterwards. The cross- traffic corridor has been eliminated to promote an intimate, restful space.
New Axminster carpets, wallpaper, commissioned paintings, and trim paint. Emphasis shifts from forest green and Colorado stone to a more traditional palette warmer blues, yellows and neutral tones reminiscent of the finest European style.
Enlarged fireplace rooms in each of the locker rooms with doors that open directly to the treatment corridor, allowing for direct therapist access to clients. The rooms feature a raised fireplace with traditional detailing, comfortable furnishings, fine artwork and exclusively designed lighting fixtures.
Photo courtesy of The Broadmoor.