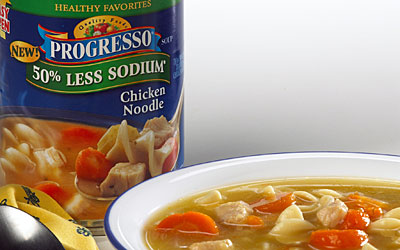 Progresso has developed a collection of soups that contain fifty percent less sodium per serving than their original soups: Progresso reduced sodium Chicken Noodle, Chicken Gumbo, Garden Vegetable and Minestrone.
All four flavors of Progresso reduced sodium soup are certified by the American Heart Association.
The new Progresso reduced sodium soups are available in four varieties. Chicken Noodle is made with roasted white meat chicken and rotini shaped noodles in a traditional savory chicken broth. Chicken Gumbo has a tomato base with rice, okra and chicken. Garden Vegetable is packed with vegetables and the Minestrone is a savory blend of carrots, peas, potatoes, kidney and green beans with penne pasta.
Summer sun and heat will quickly give way to cool fall days. Soup is a comforting cold weather staple and is sure to evoke memories of a tasty, cool autumn afternoon in Grandma's kitchen. "Serve a steaming bowl of soup with salad and bread and you have a tasty and satisfying lunch or dinner," said Ukonwa Kuzi-Orizu of Progresso. "With Progresso ready to serve reduced sodium soups, the meal is nutritious, easy and delicious."