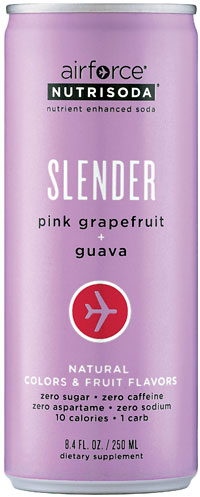 Along with a healthy diet and exercise, Slender is a delicious weight management soda without empty calories. Not only does the soft drink help manage your appetite, burn fat, and speed up metabolism - it also provides important nutrients such as folic acid, calcium, and magnesium as well as vitamins and minerals often lost during weight loss.
With water filtered four times for extra purity, natural colors and natural fruit flavors, Slender has only ten calories and one carbohydrate.
Slender provides nutritional support for a healthy lifestyle by containing healthy nutrients. Garcinia cambogia may help reduce appetite and inhibit conversion of excess carbohydrates to body fat. Amino acids L-carnitine and L-tyrosine assist in the breakdown of fat in cells to produce energy. Calcium helps the body metabolize and burn fat and promotes development of strong bones and teeth. Vitamins A, C, E, and selenium are antioxidants that boost the body's immune defenses. Chromium, magnesium, biotin, and selenium help metabolize carbohydrates and balance blood glucose levels.
Nutrisodas can be found in Target stores.
Ardea< develops nutrient-enhanced beverages.