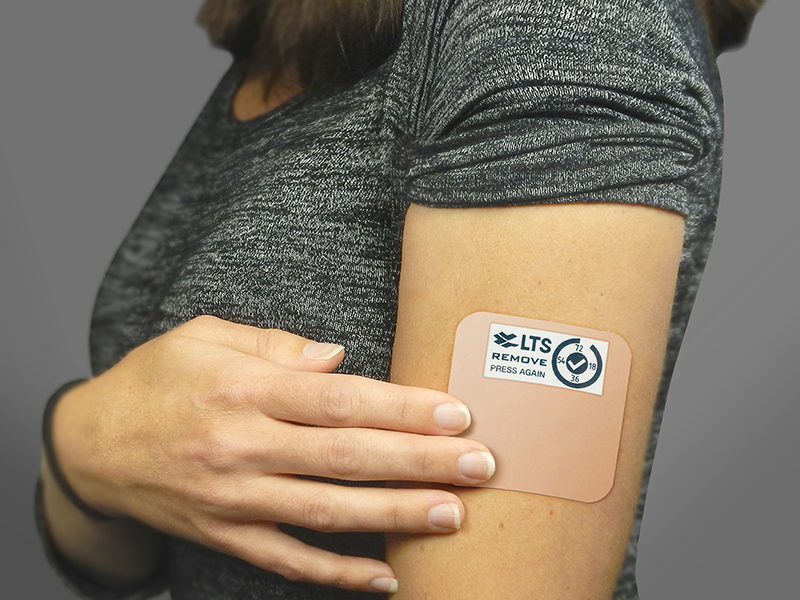 On October 23, 2017, E Ink and LTS announced their partnership to develop a Smart Patch prototype. The Smart Patch prototype is a transdermal therapeutic system (TTS) that delivers medication to patients in a convenient, controlled and comfortable manner and features an E Ink display to deliver and convey relevant information about patch performance.
The Smart Patch is equipped with a 2 inch E Ink electronic paper display (EPD) that leverages the display's bistable nature to ensure the patient doesn't need to recharge the battery. The patch features a switch, pressure sensor and a low voltage E Ink display that shows helpful information with functionalities including:
A message indicating whether the patch is applied correctly to the skin
A countdown until the next dose
A reminder to remove the patch and to replace it appropriately
The Smart Patch concept will initially target the treatment of chronic diseases.
"This is the first application to feature E Ink's low voltage film, which uses 50-70 percent of the typical driving voltage for EPDs," said Dr. FY Gan, EVP of Sales Center at E Ink. "In addition to minimizing power consumption, which results in the ability to use a small battery with a longer battery life, the low voltage film is the thinnest electronic paper film available on the market at less than 200um, enabling it to fit flawlessly on the TTS."
According to a report conducted by the New England Healthcare Institute (NEHI), poor medication adherence is a pervasive problem that costs $290 billion a year in the U.S. Forgetting to take medication and not understanding administration instructions are among the main reasons why between 20 and 50 percent of patients are not adhering to their medical regimens. Smart drug systems like Smart Patches will increase globally to nearly $81.4 billion by 2024 as they provide a more targeted, uniform and secure method of drug delivery.