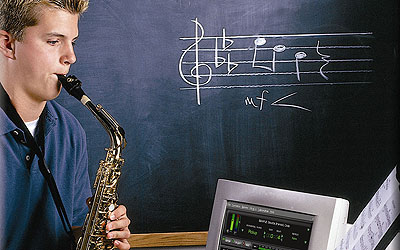 This fall, almost a million students will join band and orchestra for the first time. Even though it's been proven that music lessons help students with other subjects, it's not always easy to get through those first few weeks of practicing.
Instrument manufacturer Conn-Selmer has stepped in to help with a free 90-day subscription to the Smart Music interactive music practice system with their US made student instruments. Smart Music features accompaniments to popular band and orchestra method books and its practice tools help guide student progress and make practicing fun. Your student can even record and email his or her creative work to grandma.
Conn-Selmer figures that quality instruments together with Smart Music will ensure that your budding musician will be more successful more quickly.
Access to quality instruments combined with professional guidance available from Smart Music Studio will ensure students progress quickly. Learning how to practice and improve is crucial in the early stages of learning to play an instrument; and Smart Music Studio makes practicing fun.
Conn-Selmer extends this offer through its dealer network, providing added value to parents who choose to rent or purchase selected best level student instruments. "Our goal is to enrich the learning environment for beginning instrumentalists, encouraging individual achievement and a solid introduction for making-music," says John Stoner, president of Conn-Selmer, Inc.
The Conn-Selmer/MakeMusic! initiative will assist music educators and parents of beginning music students who have struggled to motivate beginning musicians. Smart Music Studio is fun and easy to use while providing encouragement for students to practice. Students who experience success through making music will gain learning skills that transfer to all areas of academics.
"We have documented Smart Music's ability to help even the youngest of students build skills, gain confidence and develop their musicianship more quickly," states John Paulson, president of MakeMusic!, the developer of the Smart Music Studio.
Conn-Selmer manufactures band and orchestral instruments and accessories.
MakeMusic! develops music education technology. Among its products are Finale, the world's best-selling music notation software, and Smart Music, a music practice system that features Intelligent Accompaniment and an interactive accompaniment library.