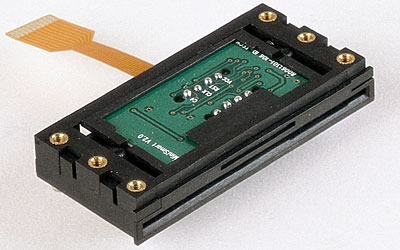 ID TECH developed a miniature smart card reader that is more durable than any other small reader on the market. The MiniSmart is just over two inches wide and about an inch deep, yet it delivers reliable performance for more than 1 million card cycles.
"This is truly a breakthrough in smart card reader-writer technology," said Terry Conant. "There are other connectors just as small, but most are designed for the home or office market and rated to a maximum of 100,000 cycles. Also, the internal electronics of the MiniSmart are virtually unique for a card reader this small. Other readers of similar size employ sliding or landing-style contacts soldered to an external printed circuit assembly, which is in turn soldered or riveted to a housing. The MiniSmart is fully self-contained and can be mounted by its chassis or bezel without any additional mounting brackets or external printed circuit boards."
The MiniSmart reads and writes to Integrated Circuit Cards (ICC or smart cards), memory or microprocessor, conforming to ISO 7816 standards. It connects to a host terminal or computer via flex cable, and its TTL output can be configured to be compatible with any other reader. Its chassis is designed to discourage jamming due to debris particles entering through the slot. An optional gate protects the reader from dust, debris, and casual vandalism.
The MiniSmart's durability is enhanced by its chassis, which is molded from a glass and lubricant-filled engineering plastic that supports a landing-style smart card connector. An enclosed "card seated" switch provides dependable confirmation of full chip-to-connector contact. An optional molded bezel (either standard or flush-mount) can attach to the chassis to guide the card.
"A landing-style connector minimizes wear and debris," said George Jiang. "The contacts land on the chip as the card settles into place." The MiniSmart's gold-plated contacts also meet the requirements of Europe's MasterCard and Visa EMV2000 specification for contact force, ICC signal timing, and reliability. "A TTL reader cannot be formally certified by EMV," said Jiang, "but the MiniSmart is designed to meet all electrical and mechanical EMV standards as an independent device."
The MiniSmart is designed for high-traffic OEM applications where space is at a premium and reliability is essential. Ideal product environments include keyboards, terminals (countertop and hand-held), and printers designed for POS and banking applications, as well as PDAs, PIN verification terminals, access control units, and public fixtures such as parking meters.
ID TECH manufactures magnetic stripe readers, smart card readers, and bar code scanners.