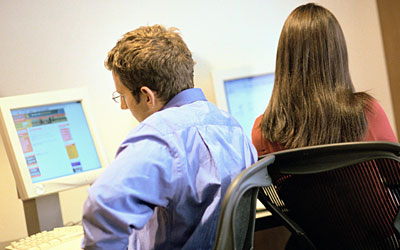 Despite the weak U.S. economy, U.S. Small Businesses (SBs) surged ahead, hiring new employees, opening new sites and increasing spending on IT. The previously under-saturated SB market made strong strides in adopting new and advanced IT products and solutions, encompassing Virtual Private Networks (VPNs), Networking Storage, Wireless LAN, Intrusion Detection, Firewalls and Customer-Focused Enterprise Applications. Overall, spending on IT by U.S. Small Businesses grew by 11%, registering $86 billion.
The above findings were released today by New York-based Access Markets International (AMI) Partners, a leading consulting firm specializing in IT, Internet, Telecom and business services market intelligence, trends and strategy with a strong focus on global small and medium business (SMB) enterprises. AMI conducts the IT industry's most comprehensive annual tracking surveys of SMBs in several countries including the U.S., France, Germany, U.K., Australia, China, India, Japan, South Korea, Brazil and Mexico.
According to the AMI study, U.S. SBs expanded their workforce by more than 5% over the last 12 months, adding 382,000 new employees. As a natural outcome to the employee expansion, SBs opened new sites in order to cater to this growth. "The economy's impact on the SB market during the last 12 months has been mixed," said Arjun Mehra, analyst at AMI-Partners. Approximately half of all U.S. SBs experienced an increase in their annual revenues during the last twelve months, with one in five reflecting an annualized revenue growth rate exceeding 10%. However, more than a quarter witnessed declining sales. "Much of the past 12 months' growth, be it IT spending or hiring of employees, has largely been driven by SBs that weathered the economic storm," observed Mr. Mehra. If the economic turnaround takes hold, the impact will spread to a broader segment of the SB market resulting in substantial growth. Mr. Mehra added, "AMI's survey indicates that SB expectations for 2004 are exuberant - perhaps too optimistic!" 74% of SBs expect an increase in revenues over the next 12 months. Albeit, there may be an element of wishful thinking.
Security-solution providers covering anti-virus, firewalls, intrusion detection and managed security have benefited significantly from a growing awareness among SBs relating to the importance of such solutions for their operations. In order to address their security concerns, nearly 60% of SBs with LANs currently use on-site data backup and recovery solutions, while 20% of them are currently able to check for systems/power redundancy for disaster recovery. SBs favor software-based firewalls running on PCs and/or LAN servers, as well as firewalls that are embedded in networking hardware such as routers and switches, etc. Roughly 228,000 SBs currently have remote management capabilities of their networks for security monitoring, which is expected to double over the next 12 months.
AMI-Partners' studies reveal that the number of businesses deploying SAN/NAS storage solutions increased by a staggering 36% over last year, an indication that the drop in SAN/NAS prices coupled by enhancements in infrastructure-friendly IP-based SAN solutions were welcomed by the IT savvy segment of the SB market. The SB market clearly represents a lucrative opportunity for storage solution providers who are re-modeling their products in order to cater to the needs of this segment. The growing use of media intensive applications, such as imaging and document management, and streaming video lead to the accumulation of massive amounts of digitized media that require storage facilities. AMI estimates SBs spent roughly $0.48 billion on network storage solutions, a significant 27% increase from 2002.
SBs are looking to implement solutions that will enhance the intelligence and scalability of their network in the most cost effective way. Burgeoning interest in wireless LANs and the increasing need for VPNs have caused SBs to refocus their investments in networking-related spending, which reached a high of $15.06 billion in 2003. Wireless LAN deployment increased by 30% over the last year as SBs strive to enhance the functionality of their regular office LANs. This explosion in adoption is apparent as SBs spent roughly $0.53 billion on wireless LAN solutions in 2003, a 50% hike over the total amount spent last year. The number of businesses using VPNs nearly doubled over the last 12 months as SBs finally perceive VPNs to be a secure and reliable form of communication. ISDN usage continues to drop as SBs increasingly favor high-speed broadband access and affordable connectivity solutions. Rapidly falling prices allowed DSL and T1/T3 Internet access to command 31% and 33% year-over-year growth, respectively. Apart from this, enhancing employee productivity and reducing latency between transactions will drive a significant amount of investment in upgrading enterprise Intranets over the next 12 months.
AMI-Partners' survey results indicate that SBs are deploying enterprise software applications in order to retain and grow their customer base and optimize business processes. With the efforts of companies such as salesforce.com and Microsoft releasing affordable software applications catered specifically for the SB market, spending on such products increased considerably since 2002. There was a 26% year-over-year growth in the number of businesses using CRM/SFA applications. The need to establish electronic linkages with larger companies ensured that ERP/SCM deployment increased by 16% over last year. The shift towards automating existing transactions with suppliers and customers indicates that enterprise software applications will continue to be a 'hotspot' among U.S. SBs.
AMI-Partners specializes in IT, Internet, telecommunications and business services strategy, venture capital and actionable market intelligence - focusing on global small and medium business (SMB) enterprises. The AMI-Partners mission is to empower the firm's clients for success with the highest quality data, business planning and "go-to-market" solutions. AMI-Partners was founded in 1996 under the name of Access Media International (USA) (AMI-USA) by Andy Bose, formerly a group vice president at IDC. Since its inception, the firm has built a world-class management team spanning 10 to 25 years in IT, telecommunications, online communications, and multimedia. The team is comprised of individuals who formerly built careers at leading industry-companies such as ADP, Cablevision, Compaq, IBM, IDC, Gartner, McKinsey, and other major corporations.
AMI-Partners has helped shape the go-to-market SMB strategies of more than 130 leading IT, Internet, Telecom and business services companies in the last seven years. The firm is well known for its IT and Internet-adoption-based segmentation of the SMB markets; its annual retainership services based on global SMB tracking surveys; and its proprietary database of several thousand SMBs in the U.S., Europe, Asia-Pacific and Latin America. The firm invests significantly in collecting survey-based information with several thousand SMBs globally through the industry's most comprehensive SMB survey instrument, and is considered to be the leading benchmark for tracking SMB trends.