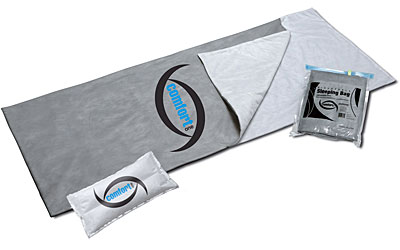 ComfortOne Disposable Sleeping Bag with Pillow from Graham Medical is portable, compact, lightweight and convenient. Its unique layered construction features non-woven materials that provide fluid barrier protection and are non-allergenic.
"There is top-of-mind awareness regarding preparedness these days. Disposable sleeping bags are an important element of overall preparedness," said Brian Segrin of Graham Medical.
While traditional sleeping bags are often found on preparedness lists, Graham Medical will position Comfort One Disposable Sleeping Bag with Pillow as a standard, necessary supply.
"The disposable sleeping bag helps address some of our basic needs such as sanitation, warmth, and shelter. It eliminates laundry costs, packs into one-quarter of the space compared to a regular sleeping bag, and is just one-third the weight. It's one more way agencies and organizations can prepare for the unexpected," said Segrin.
ComfortOne Disposable Sleeping Bag includes an inflatable pillow, lays flat at 36" x 92", and weighs only two pounds. It fits in a resealable vacuum pouch and is engineered for use up to two weeks.
Graham Medical makes single-use products.