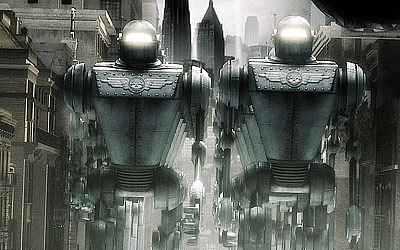 Giant 75-foot-tall robots towered over two California theaters to launch the opening weekend of Paramount Pictures' Sky Captain and the World of Tomorrow. People in the vicinity of Regal's Ontario Mills Theater were able to see the robots from Interstate 15 as they pass in and around the huge outlet shopping area, and motorists traveling on the 405 near The Bridge Theater in Los Angeles were able to see them looming over the theater's adjacent parking structure. The groundbreaking live-action/CG film stars two-time Academy Award nominee Jude Law, Oscar winners Gwyneth Paltrow and Angelina Jolie, along with co-stars Giovanni Ribisi and Bai Ling.
Sky Captain and the World of Tomorrow features state-of-the-art special effects never seen before. With more than 2000 effects shots, this unprecedented feature uses live action filmed against blue screen and fills in every frame detail digitally, after the completion of principal photography. More than six years in the making, this innovative film is the brainchild of first-time writer/director Kerry Conran, in collaboration with producer Jon Avnet.
Sky Captain and the World of Tomorrow is the story of a time when famous scientists around the world mysteriously disappear. Reporter Polly Perkins (Gwyneth Paltrow) and ace aviator Sky Captain (Jude Law) set out to investigate. Risking their lives as they travel to exotic places around the world, can the fearless duo stop Dr. Totenkopf, the mastermind behind a plot to destroy the earth? Aided by Franky Cook (Angelina Jolie), commander of an all-female amphibious squadron, and technical genius Dex (Giovanni Ribisi), Polly and Sky Captain may be our planet's only hope.
Paramount Pictures, Aurelio De Laurentiis and Jon Avnet present a Brooklyn Films II/Riff Raff-Blue Flower/Filmauro Production of A Kerry Conran Film, Sky Captain and the World of Tomorrow. Starring Gwyneth Paltrow, Jude Law, Giovanni Ribisi, Michael Gambon, Bai Ling, Omid Djalili and Angelina Jolie, the film is written and directed by Kerry Conran, produced by Jon Avnet, Marsha Oglesby, Sadie Frost and Jude Law. Executive producers are Aurelio De Laurentiis, Raffaella De Laurentiis and Bill Haber. Eric Adkins is the director of photography.