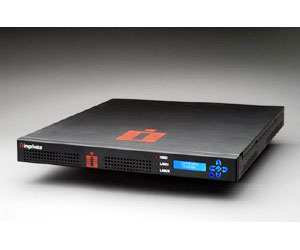 Imprivata today announced the availability of OneSign 2.0, an easy-to-install and manage security appliance that makes enterprise single sign-on (ESSO) a practical solution for any size organization. OneSign's unique self-learning Application Profile Generator (APG) virtually eliminates the need for custom scripting, a time-consuming process that has hindered mainstream adoption of enterprise SSO.
A growing number of IT managers are turning to ESSO as part of a best-practices approach to enterprise security. The sheer increase in the number of heterogeneous applications, the battle against network intrusion and the constant need to boost user productivity in the face of regulatory and compliance pressures make easy-to-manage centralized password administration an imperative.
"In many community banks, IT departments have limited staffs and budgets yet there is an expectation of the highest level of security and access controls," says Paula Chesbrough, CIO of Eagle Bank in Boston. "IT managers need tools that are easily installed, maintained and managed. We adopted Imprivata's OneSign because it was so easy to implement and it gave us greater control of passwords, logons, and user access to various systems. At the same time it is easier for users to access their applications, making them happier and more productive. To me, SSO is an integral part of a smart IT strategy."
The average user juggles as many as a dozen different passwords every day. Password overload is no longer just an inconvenience; it is costing companies time and money.
"Moves to strengthen simple password logon have unintentionally created a financial burden for a lot of companies," says Patrick Morley, Imprivata CEO. "Businesses desperately need a way to simplify password administration without compromising security; this is especially true for companies with the need to comply with HIPAA, GLBA and other industry regulations."
According to Burt Ridge, CIO of Laughlin Medical Center in Greenville, Tenn.: "Physicians began complaining about the number of unique user names and passwords they had to remember. They'd forget their passwords and couldn't log into critical applications." And, Ridge adds, "There is more than money at stake in a situation like that."
Ridge led a selection team that evaluated ESSO solutions and chose OneSign.
"OneSign enabled our network administrator to implement a single sign-on system that delivered on its promise of affordability and simplicity for IT, as well as transparency for users," says Ridge. "It has made everyone's life a whole lot easier."
"SSO is an important mechanism for reducing sign-ons and contributing to the overall business case for identity management," says industry analyst Phil Schacter, vice president and director, Directory and Security Strategies, Burton Group. "SSO can accelerate the delivery of benefits in cost savings, user convenience and the enhanced security that results from a move to stronger password policies and multi-factor authentication mechanisms."
OneSign utilizes a distributed architecture that combines the benefits of client-side agents along with a central repository that encrypts user credentials and manages all the interfaces between the user's computer and applications. All desktop interaction, including session management and future agent updates, is handled centrally, with no user intervention or client-machine downtime.
The Shared Workstation SSO allows a single computer to serve unique and secure access to multiple users; a major benefit in any business setting where several people might use the same computer, such as in a retail store, or at a nurse's station in an intensive care unit.
Client-Side Usage Monitoring allows granular tracking of user activity within applications being accessed through SSO; provides consolidated views and reports for managers complying with new corporate governance mandates and industry-specific best practices.
Automatic Agent Update provides seamless and centralized management of SSO agent software located on client machines.
Imprivata develops enterprise single sign-on solutions that simplify password administration and enhance IT security.