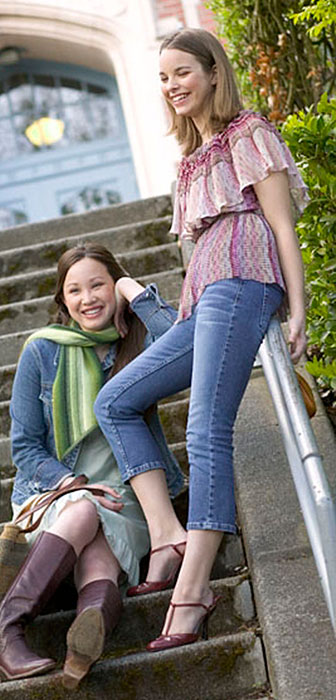 This fall, teens nationwide will try to create a Bohemian look at a low cost.
"We know a hip wardrobe is extremely important to teens-it's their identity, their chance to express themselves," said Gina Cohen of Savers. "With a variety of brand names and vintage pieces to choose from at a fraction of the cost, shopping at Savers is a practical yet stylish way for teens to look great and unique, at prices that make parents happy." Savers thrift stores satisfy fashion-forward teens and penny-pinching parents with more than 5000 one-of-a-kind items arriving at its stores daily.
With so many styles and fashions moving through, spotting fall trends is a snap. Here are five looks that can be created with just a few creative touches.
Create the flirty Bohemian look with sexy shoes or broken-in boots paired with form-fitting jeans and pretty feminine tops. Ruffles and lace are fun fundamentals of the BOHO look. Use them as bold or subtle accents.
Mix and match decades to create a custom vintage look. A fitted tweed blazer over a 50's era floral dress (shortened for a modern touch), create a sassy alternative to the typical skirt and sweater look. Classic vintage can be achieved easily with a pair of dark jeans, a belted wool jacket and a poor boy cap.
For a Preppy look, pleated skirts and knee socks never go out of style. Pair with funky tennis shoes to add an edge to traditional school-girl style.
Layer dark corduroy blazers over soft and neutral turtleneck sweaters for a classic, yet fresh, preppy look.
Pulling off an authentic rebellious ensemble relies heavily on accessories. Start with staples such as a black fitted jacket (of any fabric) and denim skirt. Embellish with fringed belts and knee-high leather boots. - Work in vibrant colors and form-fitting shapes for a unique, all eyes on me effect.
For a casual feel, favorite jeans or colored cords are great alternatives to tired old sweats -- and they're just as comfortable. Striped cotton shirts in bright colors are a cool, yet casual, complement to any outfit.