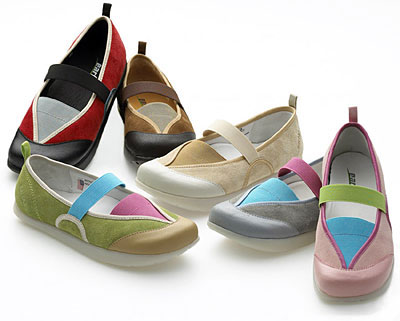 Millions of people who travel know how taxing it can be--carrying luggage, standing in security lines for hours and running through airports. All of this can wreak havoc on your feet and back.
Famous for fashion and function, Earth shoes are now being touted as the perfect travel shoes, too, for several reasons. Earth shoes feature the original Kalso negative heel which naturally aligns the body; this is especially important when you are carrying luggage and walking a lot. Earth shoes are uniquely comfortable with their wide toe box, which gives extra room for feet that might swell during a flight, and the proprietary Gelron 2000 memory foam that provides better shock absorption and forms to the contour of your feet.
Earth shoes also offer adjustability with straps, ties and elasticized stretch goring. They are airport friendly because they slide on and off easily and most styles have a recycled fiber shank that does not set off metal detectors. Medical studies confirm that the 3.7 percent incline of Earth shoes help you burn more calories than other shoes, so you can trim down just walking through the airport. Earth shoes can also be dressed up or down so you can pack fewer pairs of shoes.
"Earth shoes were first made famous in the 1970s. It all began when two Americans vacationing in Europe came across Anne Kalso's store in Denmark," said Vern Aisner of Earth. "Today, we have contemporized the comfort features and technology, and we continue to create new styles to stay ahead of the fashion trends, while maintaining the health benefits of our brand."
Especially popular among the Earth shoes line are the women's Intrigue styles, which are available in a host of colors and materials. Some are designed with bright blocks of colored kid suede, accented with soft leather trim and finished with a distinctive square toecap and there are animal-friendly vegan styles, too. Men's shoes also offer the same stylish options and travel benefits. The Princeton and Taurus continue to stay in the forefront of the Earth shoe mania with silhouettes of beautifully grained leather and brushed, natural suede. They are very lightweight with padded tongues and collars for extra comfort.
The shoes are available in a wide range of leather and non-leather vegan designs, including sandals, business shoes, and athletic shoes.