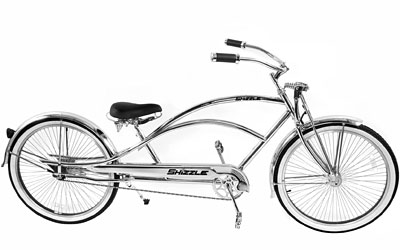 Billed as the tightest self-powered two-wheeler you'll see on the streets by URB Magazine, Shizzle Bikes are the longest production bikes in the industry at a whopping 7 feet, 5 inches in length.
The cruiser trend has gone beyond the beaches. Hollywood actors, rappers and even pro skaters have been seen riding Shizzle Bikes. Die Another Day actor Will Yun Lee, who plays opposite Jennifer Garner in the upcoming film Elektra, and young actors like Emile Hirsch of the upcoming Lords of Dogtown movie about skateboarding culture, have been spotted cruising on Shizzles. This November, Shizzle Bikes makes its network premiere on MTV's new fall program, Date My Mom.
Like its custom predecessors seen on countless hip-hop and rap videos, the Shizzle Deluxe features an extremely long and sleek stretch frame, dubbed the Cadillac of Cruisers by fans. Retro fenders, whitewall tires and a sweeping chainguard give the Shizzles that classic timeless cruiser look. Yet the customized design speaks to today's style-conscious consumer. Custom 68-spoke black alloy rims, motorcycle-style handgrips and front-end springer forks ensure a smooth ride, while Lowrider Magazine describes the Shizzle as the "newest addition to lowrider culture" for its detailing and pavement hugging glide. A comfortable triple-spring seat ensures maximum riding comfort from Malibu Beach to the Hollywood Hills.
Shizzle Bikes was born in the laid-back, cruising-mad boardwalks of Long Beach, California where cruiser culture, the art of creating customized beach cruisers from vintage parts and stretched-out frames, runs rampant.
President Nick Didovic decided to create his own company when he couldn't find a cool-looking, affordable cruiser model. "Most souped-up rides I saw on the beaches were either custom-made or unaffordable for the average buyer," he says. Didovic saw a niche for a superior-looking model off the rack -- and Shizzle Bikes was born.
Demands for a women's model have prompted Shizzle Bikes to develop the world's first stretch cruiser for women, The Diva, debuting this fall. Pink, punk and primped, the new Diva has a pink-on-pink color scheme, whitewall tires, white seat and white handgrips.
Cruiser bicycles were extremely popular this year, with sales volumes projected to increase over 50 percent from last year, says Robert Torrico of Bicycle Retailer and Industry News magazine. "Over 460,000 cruiser bikes were sold in 2003 alone, the year they surpassed BMX bike sales," says Torrico.
"The cruiser market has been exploding ever since Shizzle Bikes debuted this year," says Didovic. "We couldn't have started Shizzle Bikes at a better time." Along with partner David Shapiro, Didovic runs Shizzle Bikes out of its Long Beach headquarters. The two partners now head Aladdin Worldwide, Inc. based in Las Vegas, with Shapiro at the helm in Nevada.
The Diva will debut at the International Bike Expo (InterBike) in Las Vegas in early October. The Shizzle retails at $399 and the Shizzle Deluxe is $499.