When Crown Princess set sail for the first time on June 14, over a million dollars in diamonds were commissioned to commemorate her inaugural. An exclusive collection of diamond jewelry is showcased on board, the highlight of which is a showpiece, 100-carat matching set of four pieces, dubbed the Crown Jewels. The pieces in this sparkling collection will be available for purchase aboard Crown Princess only for her first eight sailings, and during that time, four lucky women on each sailing will have the opportunity to wear the Crown Jewels for a special portrait sitting on formal night. The entire collection will be on display for passengers to view and purchase in the ship's Facets jewelry salon.
Katharine McPhee of American Idol, Martha Stewart, and Scripps National Spelling Bee champion Kerry Close were present for the ship's naming ceremony and helped unveil the jewels.
The elaborate ensemble features flawless diamonds and platinum, in settings reminiscent of the Victorian era, and the Crown Jewels pieces include a necklace, earrings, bracelet, and ring. Valued at $585,000 for the four-piece set, the Crown Jewels have authenticated carat weight, color, cut, and value.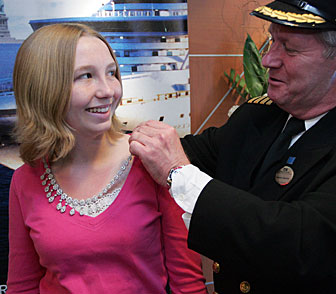 The Crown Princess brings a number of new design innovations to the Princess fleet, including a dramatic new piazza-style atrium and new casual dining venues. Within the new street cafe environment of the atrium, passengers will find an International Cafe serving up fresh pastries and baked goods in the morning and assorted other offerings throughout the day, as well as a wine and seafood bar.
The ship features a poolside movie screen, fitness spa, children's center, wedding chapel, and staterooms with private balconies.
The inaugural 2006 summer season for Crown Princess features nine-day roundtrip voyages to both the Eastern and Western Caribbean. In the fall, the ship will offer winter Caribbean sailings.