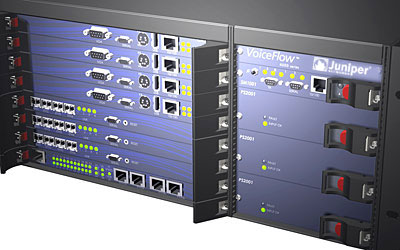 The carrier-grade Voice Flow 4000 session border controller from Juniper Networks is capable of carrying more than 100,000 concurrent calls and delivering 750 calls per second (CPS), all in a single system. The new four rack unit-high device makes it not only the most powerful session border controller, but also the most efficient, as it is able to fit in carrier network locations where other larger, but less powerful units cannot. As data center/central office space is very limited, the ability of Voice Flow 4000 to achieve maximum performance with a small footprint is extremely important to providers of VoIP.
Voice Flow 4000 is designed to meet the growing demand of carriers, large service providers and MSOs for high-availability, carrier-grade session border control required to power carrier-to-carrier peering and line side services such as IP Centrex and hosted IP telephony services with thousands, and eventually millions of endpoints. Target customers include Tier 1 carriers and service providers, Tier 2 service providers with sizable networks and large MSOs, mobile carriers, and ISPs. It will support all of the real-time IP and VoIP solutions demanded by these customers - network protection, hosted NAT traversal, carrier peering and hosted VPN/VLAN address translation.
In addition to its raw power, Voice Flow 4000 provides superior signaling and media configurability to allow carriers and service providers to optimize their network's performance. Enhanced load balancing capabilities distribute media and signaling throughout the system and network.
Six available (out of eight total) slots can be populated by signaling and/or media cards, which can be variably configured to provide the exact performance and throughput to meet the carrier's required network characteristics. This permits carriers to reconfigure the signaling and media cards to provide for increased performance as its network demands grow.
Voice Flow 4000 provides fault tolerant high availability, intra- and inter-system redundancy, and distributed signaling and media packet processing in a single chassis. It incorporates a unique 3-way architecture that utilizes the architecture best suited for each session border control application and XpressPath media routing that enables control over direct media flow between endpoints. The new product supplements the company's existing family of session border control solutions, including the carrier-grade Voice Flow 3000, and VoIP service provider or carrier edge Voice Flow 1000.
Leading features of Voice Flow 4000 include topology hiding, denial of service (DoS) protection, media firewall, optimized media routing, service level agreement (SLA) reporting, and firewall pinhole maintenance. It also provides bandwidth utilization management, concurrent call limiting, E911, protocol translation, admission control, call routing and load balancing, lawful interception, and regulatory compliance applications.
Juniper Networks provides networking and security solutions.