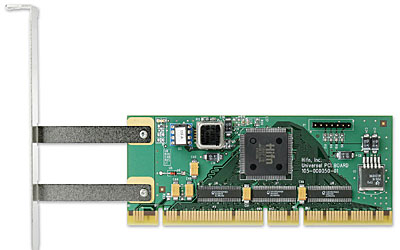 Hifn's Access HXL Security Acceleration Board Family, based on Hifn's proprietary silicon, deliver market-leading system-level performance with minimal customer integration effort.
The Access HXL board family consists of six versions of half-height PCI cards ranging in performance from 155Mbps to 524Mbps. These boards are specifically designed to meet the encryption performance requirements of OEM customers whose systems have space and form factor constraints. The Access HXL boards can be used with a wide variety of networking equipment such as VPN gateways, wireless appliances, SME routers, webservers, and firewalls.
The Access HXL board family is based on Hifn 7954/7955/7956 security processors and can support compression and a variety of bulk encryption algorithms to accelerate IPsec, SSL/TLS, and Wireless protocols. Supported algorithms include LZS Compression, DES, Triple DES, AES (with 128, 192, and 256-bit key lengths), and ARC4 encryption; MD5, SHA-1 hashing and authentication; RSA, DSA, and Diffie-Hellman public key support for SSL and IKE; hardware supported 3,072-bit modular arithmetic and exponentiation, plus true Random Number Generation (RNG). The Access HXL board family includes a 32/64-bit PCI v 2.2 interface with support for 33/66 MHz bus speeds.
"Security is becoming mandatory in nearly all network based equipment," said Glenn Haley of Hifn. "Hifn's Access HXL boards provide a low-cost, high performance and easy-to-integrate way to add security to systems."
The Hifn Software Development Kit for the Access HXL Board Family provides extensive support including documentation, test tools, reference example code, API, drivers, and operating system support for Linux, Windows, and VxWorks. The Hifn Access HXL board family is supported in OpenBSD and FreeBSD. Coupled with the available software development tools, the Access HXL board family can be readily designed into new systems, making it possible for networking equipment manufacturers to substantially reduce the time needed to bring new products to market.
Available today, the Access HXL board family ranges in price from $65 to $79 in quantities of 1K units.
Hifn makes integrated circuits and software for network infrastructure developers. Hifn combines network processing, security, compression, content search and flow classification technology into solutions for complex packet management.