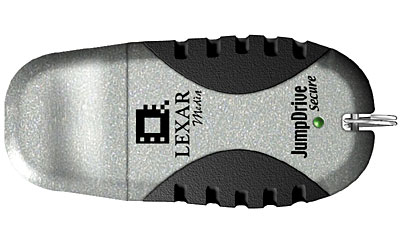 Lexar Media today announced Jump Drive Secure 2.0, the second generation of Lexar's security oriented, ultra-rugged, impact- resistant, password-protected USB flash drive. Jump Drive Secure 2.0 now offers dramatically increased file security with U.S. government approved 256- bit AES file encryption, in addition to faster data transfer with support of the USB 2.0 specification. The easy-to-use security software on Jump Drive Secure 2.0 is uniquely compatible with both PC and Macintosh operating systems, and since it resides on the drive itself it is completely portable from one computer to another.
The security software allows users to designate private and public zones by allowing users to allocate the number of megabytes of each zone in either an encrypted password-protected area, or a non-encrypted password-free area.
"Lexar Media is committed to providing innovative product leadership within the portable USB storage category and with this product introduction, we are continuing to deliver on that commitment," said Dave Klenske, Director of Product Marketing, Lexar Media. "In addition to its impact resistant housing and unique security software for both PC and Macintosh platforms, Jump Drive Secure 2.0 is now USB 2.0 Hi-Speed certified, allowing for high speed data transfer between the Jump Drive and the computer. Jump Drive Secure 2.0 is the perfect flash drive for anyone who carries sensitive files which need to be protected from unauthorized viewing."
USB 2.0 incorporates a data transfer rate of up to 480 Megabits per second, a dramatic increase over USB 1.1 enabled products. However, USB 2.0 devices are fully backward compatible with USB 1.1, so they can transfer data in either port.
Jump Drive Secure 2.0 will be available in retail outlets this February and will be available in 128MB, 256MB and 512MB capacities. Retail pricing is expected to be $49.99, $79.99 and $159.99, respectively. The security software works with Windows 2000, XP and Mac OS X operating systems. The drive itself is compatible with -- and requires no drivers -- for modern operating systems including Windows 2000, ME, XP, Mac OS 8.6+ and Mac OS X.
Lexar Media solutions for the digital photography, consumer electronics, industrial and communications markets. Lexar Media brands digital memory cards in the industry's most popular formats including CompactFlash, SmartMedia, Memory Stick, MultiMediaCard and SD.