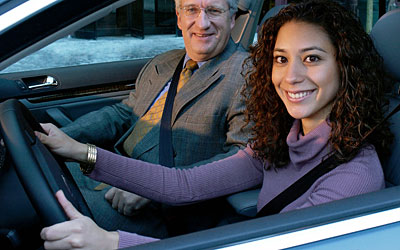 Every year, over 5,000 teenagers are lost in automobile crashes, and up to 57 percent of these teens are not wearing seat belts.
To increase safety belt use, Volkswagen and Scholastic, announced today they are expanding their joint educational program. Now in its third year, the project will expand from ten to twenty major metropolitan markets across the country.
The educational curriculum is designed to provide high school students with the tools and means with which to influence their peers through positive peer pressure. As part of this curriculum, participating students create public service announcements that encourage other teens to wear safety belts. The peer-to-peer messages feature many different storylines and styles, but a singular message: buckling up is cool. An informal study conducted by Volkswagen in year one of the program revealed the top reason teens don't wear a safety belt is because they believe it is uncool.
In mid-March, Volkswagen will begin distributing the curriculum kits to 14,000 teachers in twenty major metropolitan areas.
"We want to reach even more teens this year," said Len Hunt of Volkswagen. "Young people are the future and too many are losing their chance at that future -- their chance to go far in life. Our goal is to get teens telling other teens that buckling up really is the cool and safe thing to do."
The program includes classroom materials that help teachers engage students in seat belt safety through a cross-curricular language arts program. The lesson plans help teens build language and literacy skills; practice oral and written communication skills; and use creative expression as a powerful tool to affect other teens.
Volkswagen will select three finalists, their PSAs will be broadcast nationally. A grand prize winner will also win a $10,000 U.S. Savings Bond; the second- and third-place winners will receive $3,000 and $1,000 savings bonds, respectively.
Teachers of the three finalists will receive an Apple G5 computer with a flat screen monitor, Final Cut Express software for classroom use and a $100 Scholastic gift certificate.