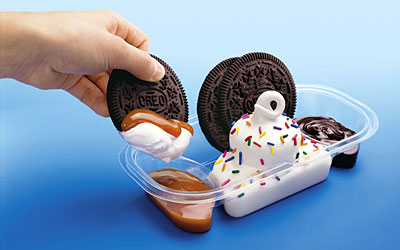 Satisfying the craving kids have for dippable food, Dairy Queen is introducing a new treat in August for tweens, ages 8 to 12, called Oreo Scoopables, adding a new twist to two All-American favorites, ice cream and Oreos. An industry leader in developing innovative, classic treats, Dairy Queen has introduced several new products in recent years just for tweens, a market that spends $14 billion annually on snacks.
"Oreo Scoopables overwhelmingly passed the taste test with our DQ Crew, national tweens panelists who test new Dairy Queen products created just for them," said Patty Halvorson, director of National/Local Promotions for International Dairy Queen. "Dipping is interactive and fun and that's why kids love it, particularly when it comes to snacks. We've seen estimates that this food category's sales are expected to approach one billion dollars this year."
The signature Oreo Scoopables is served in a newly designed split dish, which includes three over-sized Oreo wafers, creamy DQ vanilla soft-serve topped with rainbow sprinkles and for the ultimate dipping delight: sections filled with rich hot fudge and sweet hot caramel.