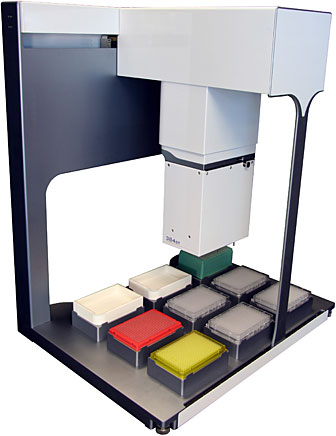 The Bravo liquid handling platform platform from Velocity11 utilizes the proven high-accuracy pipette heads of the company's popular VPrep pipettor for dispensing from 100 nl to 200 ul in 96, 384 and 1536 well formats or to a single column or row of any of these plate types.
The Bravo platform has a space-saving nine plate-position footprint that can fit inside a standard laminar flow hood to enable automated liquid handling for cell-based assays or hazardous reagents. With seven different easy-to-change head types and numerous plate pad options, it can be customized to meet the needs of a wide range of assays. The open design of the platform permits access from all sides for simple integration with other devices and unencumbered standalone use.
The platform is designed for high reliability and durability to perform consistently while providing speed and control.
The platform is powered by automation control software whose dynamic scheduling, easy-to-use interface, and innovative error recover technology allows complete control that is easy for all levels of operators.
Velocity11 designs and manufactures flexible high-performance automation technology solutions for life science laboratories.