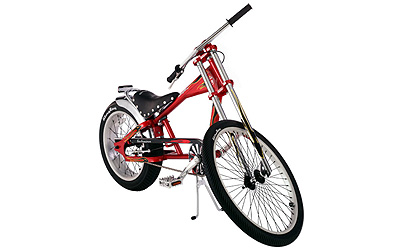 Schwinn has unveiled its all-new Stingray bicycle, marking a return of the bicycle that sold millions when it first hit the streets more than 40 years ago.
With the new Stingray, Schwinn brings something different to the bike market for 7- to 12-year-olds, which is currently comprised of BMX, mountain and traditional sidewalk bikes.
The bike's design pays homage to the original banana seat Stingray, but this very modern interpretation reflects the public's interest in customized motorcycles. With its raked-out fork, knees-to-the-breeze seat position, a huge rear tire and enough bad-boy character to raise eyebrows, this is no ordinary bicycle. Add to that the Stingray's partnership with America's premier chop shop, Orange County Choppers, and you've got the coolest bike around.
Schwinn is introducing this very modern version of the classic Stingray because, like their parents did in the 1960s and '70s, today's kids want a cool-looking bike that stands out; a bike they can trick out to make their own.
"The new Stingray is for the kid who wants a bike that offers the riding experience of a chopper," explained Joe Werwie, Schwinn's director of Product Development. "Just like the original model, every kid can customize his Stingray with cool accessories coming soon like custom wheels, high-back sissy bars, over-sized chain guards and more."
The original Stingray, widely considered the most popular bicycle of all time, was first introduced in 1963 during the muscle car craze and remained on the market until 1982. More than 1 million bikes were sold in 1968 alone.
Whether it was California, Wisconsin or New York, there were teenagers on every corner tricking out their banana seat Stingrays with headlights, mirrors, wheelie bars and other accessories to make each bike unique.
Adults who had Stingrays when they were younger have great memories of riding around their neighborhood on the coolest bike around. Now their children can share that feeling.
The new Schwinn Stingray will be available at Wal-Mart, Toys "R" Us, and other mass retail locations where Schwinn bicycles are sold in April 2004. Various models will be available for less than $180.