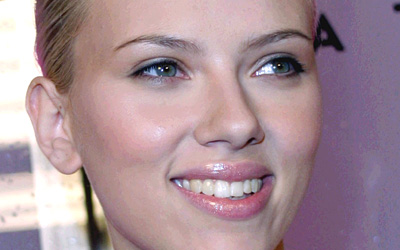 Calvin Klein Cosmetics Company today announced that actress Scarlett Johansson will be the face for a new Calvin Klein fragrance launching globally in Fall 2004.
An extraordinary young talent, Ms. Johansson is a natural beauty with an independent style. At 19, she has already won a Best Actress Award from the British Academy of Film and Television Arts (BAFTA) for her performance in Lost in Translation. She also received two Best Actress Nominations at this year's Golden Globes for her roles in Lost in Translation and Girl with a Pearl Earring. The rising star currently has three major motion pictures in theaters with three more films in post-production, and begins shooting her next movie in March.
"Scarlett is a talented young force that exudes a sophistication and confidence that is not readily seen today and, she balances it all with a relaxed attitude and a sense of humor," commented Kim Vernon, Senior Vice President of Global Communications & Advertising for Calvin Klein, Inc.
"Just when I thought things couldn't get better, something like this happens," said Scarlett Johansson. "Being associated with Calvin Klein is a real thrill."
This marks the first starring role in a major advertising campaign for Johansson, who catapulted to fame with films such as Lost in Translation and Girl with a Pearl Earring. While the new fragrance is still under wraps, Johansson has signed to star in the print and television campaign, which begins shooting in March.
"Calvin Klein has an incredible history of featuring up-and-coming talent in ads. We made the decision to sign Scarlett because she is so of the moment: hip, fresh with an urban sophistication. Scarlett is a rising star, and we are very excited to work with her," stated Laura Klauberg, senior vice president, marketing of Unilever Cosmetics International.
Photographer Peter Lindbergh will shoot the print campaign and Neil Kraft of Kraftworks will serve as Creative Director for the television campaign.
Calvin Klein is recognized for constantly seeking out new faces, models, actors, musicians, artists and athletes in the early stages of their careers.