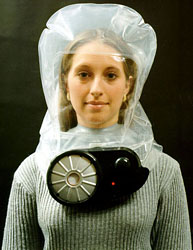 Delaware-based Space Suit designer ILC Dover, Inc. has begun production of a new chemical-biological escape hood targeted for the civilian and homeland security markets. As the designer and manufacturer of the NASA Space Suit for over three decades, ILC Dover is recognized as a global leader on products requiring the highest of standards in Quality and Reliability. Now, after a run of flawless performance protecting astronauts in the harsh environment of Space, ILC is turning its attention to the protection of civilians and homeland security personnel.
The new hood, named SCape, incorporates an integral filter-blower that activates automatically when the product is removed from its case. The positive pressure afforded by the blower results in a protection factor significantly higher than can be achieved with traditional gas masks. In addition, the SCape is simple and easy to use, which eliminates the need for extensive training. Remarkably, the SCape is still priced to compete with hoods or masks without blowers. According to Douglas Durney, ILC's Marketing Director, SCape and its companion product Baby SCape protect the wearer up to four hours from chemical warfare agents and biological, radiological, and nuclear particulate inhalation hazards.
See ILC Dover's Web site for more information.