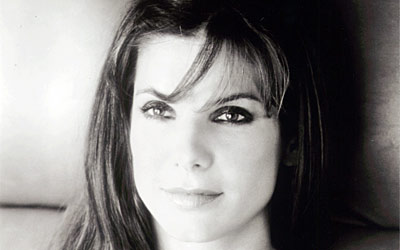 Sandra Bullock will receive the prestigious Virginia Film Award at the 17th annual Virginia Film Festival on October 30, 2004. Previous recipients of the award include Anthony Hopkins and Stan Winston. The Award is given to recognize individuals for their significant contributions to the film industry and to the state of Virginia.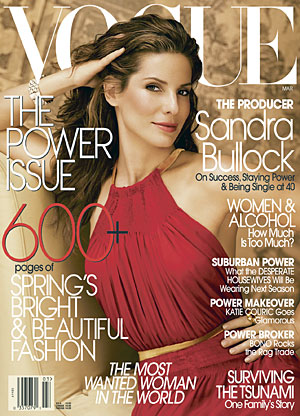 Sandra was the cover girl of the March 2005 issue of Vogue.
Sandra, born in Arlington, Virginia, will present a special sneak preview clip of her upcoming film Miss Congeniality 2, the sequel to the wildly popular original, slated for release in March 2005. She will then introduce Miss Congeniality, in which she starred as an FBI agent who goes undercover at a beauty pageant. Bullock produced both films.
"We are thrilled that Sandra Bullock has agreed to accept the Virginia Film Award," said Herskowitz. "She is one of the most popular American actresses working today, and we want to recognize her tremendous talent through the presentation of this award. Not only has she given moviegoers a number of memorable performances to savor and enjoy, but through her company, Fortis Films, she has actually been responsible for bringing many of these works to the screen."
Bullock will also participate in an acting workshop with drama students at the University of Virginia. One of the hallmarks of the Virginia Film Festival is its ability to infuse the campus and community at large with actors, filmmakers, production executives, and critics, who present films and interact with students and film audiences. In past years, actors such as Sigourney Weaver, Anthony Hopkins and Gena Rowlands have also explored film acting with theatre students.
One of Hollywood's foremost leading ladies and head of a powerhouse production company, Fortis Films, Bullock possesses a natural likeability and charm that has endeared her to audiences since her debut in the mid-1990s. She was last seen opposite Hugh Grant in the romantic comedy Two Weeks Notice, which she produced and which went on to gross over $200 million at the box office.
The daughter of an opera singer mother and a vocal coach father, Bullock attended the same alma mater, Arlington's Washington and Lee High School, as Warren Beatty and Shirley MacLaine.
Following acclaimed roles in several motion pictures, Bullock's breakthrough came in the 1994 runaway hit, Speed. Her next features, While You Were Sleeping, which earned a Golden Globe nomination, and The Net, were both critical and popular successes.
Sandra Bullock made her debut as a writer/director with the short film Making Sandwiches, in which she also starred with Matthew McConaughey and which debuted at the 1997 Sundance Film Festival.
Bullock's upcoming films include the ensemble film Crash, directed by Paul Haggis. Her company, Fortis Films, has a number of films in the works, including an untitled feature on the life of Peyton Place scribe Grace Metalious. Fortis (Latin for strength and perseverance) Films productions have a worldwide box office gross of $627 million; in addition, ancillary profits total over $1 billion.
The Virginia Film Festival, based at the University of Virginia is a four-day whirlwind program of screenings, performances, panels, and parties. This year's theme of Speed will explore our accelerated culture of fast foods and quick cuts, as well as the history of racing and chasing in the movies. Guest directors, including Paul Schrader, David Gordon Green, and Nicole Kassell, will be joined by artist Sharon Lockhart, actor Walton Goggins, musician Jim White, and philosopher/tour guide Speed Levitch.