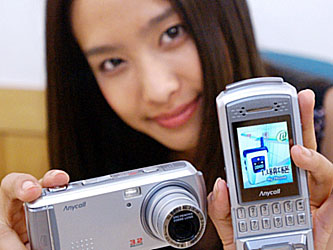 Samsung unveiled its first 3.2 megapixel digital camera phone (SPH-S2300) with 3 times optical linear zoom today.
Linear Zoom, an upgrade from the stage-type of non-linear zoom, allows users to zoom into subjects at a more precise magnification. Most digital cameras on the market have adopted this format to improve picture quality. By adopting a 3X linear zoom, as well as operations expected of a high quality digital camera, Samsung was able to raise the functionality of its camera phone to that of digital cameras.
Along with a 4X digital zoom, the S2300 can magnify pictures up to 12 times. It allows users to choose an image size from a maximum of 2,048 x 1,536 to a minimum of 640 x 480 and between an ISO setting of automatic, 100, 200 and 400. White balance can be used automatically or manually and a manual setting allows users to alter settings to accommodate weather and lighting.
A camera flash with adjustable brightness has been installed, allowing users to take pictures of subjects that are in darker settings with outputs that are similar to that of a digital camera. The S2300 also has an auto focusing function that allows the user to take pictures where the main image is in focus and the background out of focus to produce pictures that were only possible with manual focus cameras.
Like a high quality digital camera, the Samsung camera phone offers camcorder functions and a high quality microphone. Users are able to record images for more than 2 hours and with Samsung's unrivaled TV-out function, they can connect the phone to a TV to view video and images directly through a TV. Users are able to extend the memory capacity with a mini SD card, which can be used as a portable storage device when connected to the PC through a USB cable.
The phone adopts a design that salvages the special features of a digital camera. The front is designed like a digital camera with a zoom lens that projects out of the device and boasts a hidden antenna (called an intenna). Because menu, zoom, shutter and ok buttons are arranged similar to a digital camera, users are able to operate the S2300 like a digital camera. The rear looks like a mobile phone with a slide-down panel that contains keys for functions, such as menu, send and ok, and covers two rows of dial buttons.
Kitae Lee, President and CEO of Samsung Electronics stated, "Although the number of pixels of camera phones were a widely debated issue, it is meaningless to simply compare camera phones based on this parameter. The key is how efficiently and harmoniously a camera phone can embody the functions of a digital camera with identical number of pixels." He adds, "The S2300 is a totally new product that offers the functions of both a high quality digital camera and phone."
Samsung develops semiconductor, telecommunication, digital media, and digital convergence technologies.