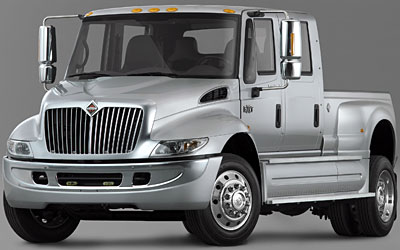 The International RXT is a more than five-ton, 22-foot-long commercial pickup truck that is the smaller (but still big) brother to the CXT (at right below).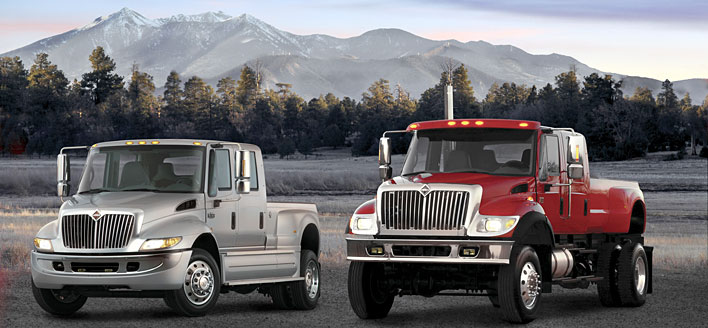 The International RXT was built for business owners who want a truck that promotes themselves as much as their businesses. However, just as people have unique personas, the International RXT is designed for business owners who prefer a strong and athletic look rather than a vehicle as big and bold as the International CXT.
Standing eight feet tall, the International RXT is a 4x2 pickup truck. It features an eight-foot-long bed, great hauling and tow capability and commercial hydraulic brakes for stopping large loads or trailers. Its exterior design is sleek and refined, offering full-body side skirts, a low step-in height, aerodynamic hood and overall stylish design. From the driver's seat, the ride is made comfortable by a spacious crew cab that seats five, as well as an air cab suspension and a ride-optimized suspension.
"The International RXT is like nothing else on the road today," said Dee Kapur of International. "After introducing the International CXT in 2004, International received an overwhelming customer response for more vehicles that are powerful in performance but refined in appearance. The International RXT meets that need with refined styling and functionality. It is yet another symbol of the creative innovation helping to drive the company's bold growth."
The International RXT features an International VT 365 diesel V8 engine with 230 horsepower and 540-pounds-per-foot of torque for optimal performance and efficiency.
"As the leading manufacturer of mid-range diesel engines, International is proud to showcase our product in the International RXT and XT Family," said Jack Allen of International. "International has a strong history of diesel engine leadership and we continue to build on our legacy. Today's diesel engines are in fact 20 to 40 percent more fuel efficient than gasoline engines and are delivering increasing levels of environmental performance."
Orders for the International RXT can be placed through International dealers throughout North America in fall 2005, with a starting price just under $70,000.
Who buys pick-up trucks this big? Ranchers, contractors, builders, and business owners who want to promote their business.