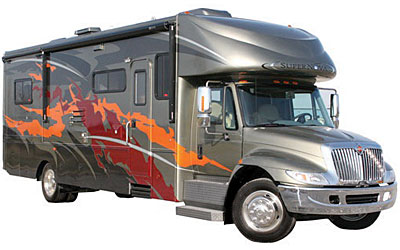 International Truck and Engine Corporation is partnering with Conquest Motorhomes to make International the exclusive cab and chassis provider for its Class C diesel motorhomes.
Gulf Stream's initial order for 625 International DuraStar chassis was a result of close collaboration between International and Workhorse Custom Chassis, as International sought support and guidance in penetrating the RV industry. The International chassis is available on Gulf Stream Coach's Super Nova and Gladiator Enduramax models.
International will begin full-scale production in June 2007. Over 125 have been built so far.
Super Nova and Gladiator Enduramax motor homes built on the International chassis feature:
Superior gross vehicle weight capacity
Towing capability of up to 13,000 pounds
Roomy cab with ergonomic interior design
Durable 300-horsepower International VT 365 diesel engine
Exterior mirrors for enhanced rear visibility
Smooth ride, handling, and maneuverability
These attributes help position International ahead of other truck manufacturers in the RV industry.