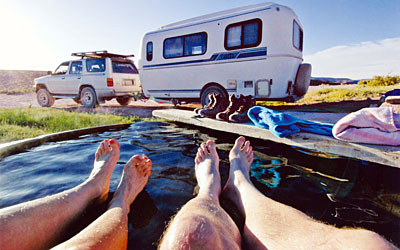 A California woman and Texas man won the top two prizes in the Nevada Commission on Tourism's (NCOT) Your Coolest RV Moment 2004 promotional contest with photos that best captured the fun of keeping cool with a recreational vehicle, Lt. Gov. Lorraine Hunt announced Wednesday.
Carolyn Fox of Jackson, California, won the grand prize, a TurboKool evaporative cooler for her RV, with her photo of two people bathing at Spencer's Hot Springs in central Nevada's Smoky Valley with their RV parked nearby. Second prize, a week's stay at Saddle West RV Park in Pahrump, Nevada, went to John Schwartz of Livingston, Texas, for his photo of an RV sheltered in the shade of a large rock at Valley of Fire State Park near Las Vegas.
Three tied for third-place, winning subscriptions to Nevada Magazine: Janice Sheppard of San Jose, California, for her picture of an RV park with a scenic lake in Pahrump; Glenn Nelson of Meadow Vista, California, whose photo showed an RV at Walker Lake near Hawthorne, and Jack Angier of Jackson, California, who photographed an RV driving into a snowstorm near Reno.
"RV enthusiasts sent so many creative, interesting pictures of their 'koolest' moment that it was a challenge to choose the contest winners," Hunt, NCOT chair, said. "The contest pictures showed the many ways that people enjoy RV travel in Nevada, including outdoor recreational and adventure sites, scenic wonders and places to stay."
The contest began in January and concluded July 14. Only photos shot in Nevada were eligible. TurboKool, manufactured in Sparks, Nev., draws fresh air through a filter that cleans and cools it by up to 20 degrees Fahrenheit.
"Nevada is a perfect destination for the huge, fast-growing RV market because our state offers uncrowded scenic highways and a 24-hour lifestyle that provides good meals and entertainment anytime," NCOT Executive Director Bruce Bommarito said. "RV travelers can visit remote attractions in comfort and choose among more than 175 RV parks."
Nevada Commission on Tourism promotes and markets Nevada as a tourism and travel destination.