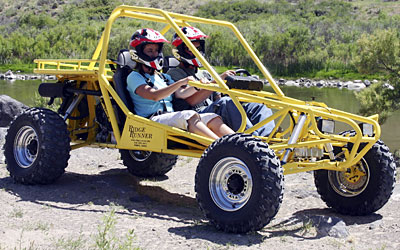 Call it a Ridge Runner and watch it run circles around traditional ATVs, quads, Jeeps, dune buggies, and other OHVs. The manufacturer claims the new Ridge Runner will go faster, climb steeper hills, clear higher objects, go farther into the back country, and allow drivers to pack in/pack out a lot more supplies for hunting, fishing or camping.
Ridge Runners have 18 inches of ground clearance and 13.5 inches of suspension travel, more than any ATV, quad, Hummer or Jeep. This allows them to tackle boulders or logs that would flip an ATV or cause a jeep or dune buggy to hang up. They have four-wheel independent suspension, with Fox Racing air shocks, allowing them to traverse rough terrain, with hardly any perceptible motion in the frame. This assures swift, comfortable passage over boulder fields or logs that could only be dreamed about with traditional ATVs. Directional control is easy with the rack and pinion steering, as opposed to handlebars that can be jerked out of a driver's hands or bent if a Quad is rolled.
The steel tube frame provides a strong, protective environment around the driver and passenger. There are no plastic body parts that will need replacing.
The engineers at Ridge Runner have designed in a number of safety features that do not distract from the thrills and excitement of running wild with the wind. There are two, side-by-side seats, allowing adults to legally bring one of their kids along. Nervous spouses prefer riding in the Ridge Runner's protected passenger seat rather than wrestling with an ATV handlebar. Dual seatbelts with double shoulder harnesses, along with roll bars, reduce the risk of injury. The car's lower center of gravity and longer/wider wheel base significantly limits the risk of rollover.
A Ridge Runner can be transported in the back of a standard pickup.
The Ridge Runner is powered by a twin cylinder, 697cc, four-stroke engine with an automatic transmission. Equipped with a high and low range transfer case, that includes park and reverse, this two seat ATV is capable of speeds up to 60 mph on smooth roads. "It isn't speed that's going to sell Ridge Runners," said company president Dan Denney. "It's the maneuverability, the sheer fun of enjoying performance that loosens the limits of off-road driving. What a Ridge Runner might do to a weekend really challenges the imagination. The main thing is, at the end of the day anyone who's been riding one will feel an incredible sense of exhilaration."