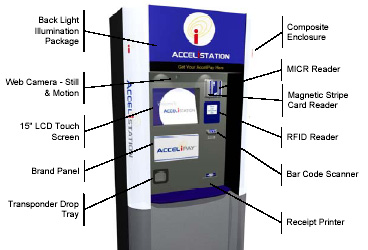 Accelitec announced the release of AcceliStation, a self-service automated transponder dispenser for use in the retail marketplace. With the addition of the AcceliStation to its product line, Accelitec will be the first to offer a complete solution for companies seeking to quickly and cost-effectively implement and maintain a RFID-based contactless payment program.
Placed at retailers' facilities, the AcceliStation kiosk dispenses and securely authorizes contactless payment devices (key tags, fobs, and larger transponders) for immediate consumer use. The on-site kiosk allows consumers to link payment devices to credit card, debit card, bank or prepaid accounts, and provides issuing companies a secure, efficient means to manage fulfillment as well as loyalty program processes.
"Several successful contactless payment programs are underway in the US, and major credit card issuers such as, American Express, MasterCard International and Bank of America have their own pilot programs. Similar retail based RFID programs have had much success such as Exxon Mobil, SpeedPass," said Tom Bartz, Accelitec CEO. "Until today, traditional methods of getting a transponder into the consumers' hands have involved call centers, fulfillment centers, online and paper applications, and sending transponders through the mail. With the launch of AcceliStation , Accelitec customers are able to issue transponders in minutes using a secure, consumer-friendly process at a cost far less than existing methods."
The AcceliStation (patent pending and manufactured to ISO 9000-2000 standards), is part of the AcceliPay suite of products consisting of proprietary software and hardware -- self-service kiosks, authentication and point-of-sale transponder readers, processing network, network monitoring and call center support for implementing a retail contactless payment program. AcceliPay products have multiple operating system options, hardware enhancements and customization to any POS system on the market today.
Accelitec designs and develops innovative products that automate and enable the use of RFID and advance contactless payment programs for its major customers: high volume retailers, retail petroleum companies, financial institutions, transit authorities, fast food and general retail companies.