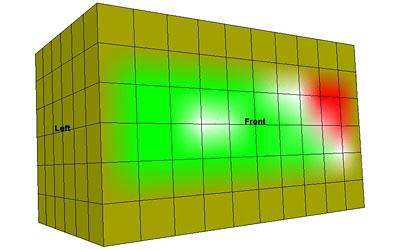 Instant EPC Hotspot software from Integral RFID uses commercial RFID tags and readers to measure RFID performance at the case and pallet level under real-world conditions. Results from these measurements are displayed using interactive 3D models color-coded to show RF properties. This unique and intuitive visualization system conveys an immediate understanding of the RF behavior of a product. This in turn leads to optimal tag placement and significantly improved case and pallet reading.
"The weakest point of the RFID supply chain today is tag placement," comments Dr. Chris Parkinson of Integral RFID. "Tags placed in a sub-optimal location will lead to poor RFID results, which for many mean a failure to meet mandate compliance."
"Instant EPC Hotspot is the first software system of its kind. It allows people to visualize RFID, which leads to insight, understanding and substantial improvements in the RFID supply chain. This scientific evaluation tool created by Integral RFID lays to rest the trial-and-error testing commonly used today."
Instant EPC Hotspot was trialed with select products at Unilever Corporation. Unilever was able to significantly increase read rates, and conduct tag placement tests "much more efficiently," states Simon Ellis of Unilever.
Instant EPC Hotspot works with any of the industry standard RFID readers (Alien Technology, Symbol, WJ, Samsys and AWID) and works with Class 0, Class 1 and the upcoming Gen 2 tags. The software itself operates as a standalone application (does not require Internet access) on a Windows based PC or laptop.
Integral RFID is offering Instant EPC Hotspot to both end-users of RFID and to system integrators who include tag analysis as part of their revenue generating services.