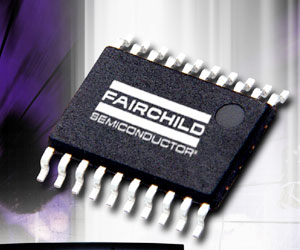 Fairchild Semiconductor has been manufacturing the RFID chips since the 1990s, when Fairchild and IBM first co-developed the RFID technology. Fairchild continued to manufacture the chips for Intermec's Intellitag RFID tags since Intermec acquired the IBM technology in December 1997.
Companies use Intellitag RFID systems for manufacturing tracking and inventory control. Goods and assets can easily be tracked with Intellitag RFID tags, which are programmed to contain identification, serial numbers, history and other attributes. Information can be updated on the fly without interrupting the normal process flow, often at a speed 40 times faster than CCD or laser bar-code scanners.
The Intellitag tag, which consists of a chip and its antenna, is smaller and lighter than a postage stamp. The Fairchild chip contains EEPROM non-volatile memory, control logic and RF circuitry that extracts power from a radio field, allowing tags to receive and transmit data without batteries.
Because radio frequency is used, two-way communication, even from a distance, does not require line of sight. Using Intermec equipment, many tags can simultaneously be identified by group and sub-group in microseconds. Information on the tags can be locked or changed as needed; users also can embed a unique identifier code for each chip that cannot be altered during the life of the tag.
The Intermec-Fairchild long-term agreement is designed to produce the high-quality, low-cost elements Intellitag systems demand, featuring low power consumption, long and high-capacity read/write ranges, and flexible tag selections for specific applications.
"Our partnership with Fairchild has been the cornerstone of our Intellitag development," said Jim Evans, Intermec vice president of Intellitag marketing. "This agreement solidifies Fairchild's role as a high volume manufacturer of the Intermec Intellitag chips."
"The development synergies built into this agreement marry Intermec's RFID technology with Fairchild's low power CMOS memory design capabilities," said Dev Nair, director of Fairchild Semiconductor's Configurable Products Group. "Our design allows a long read/write range based off the very small current extracted from the radio field."