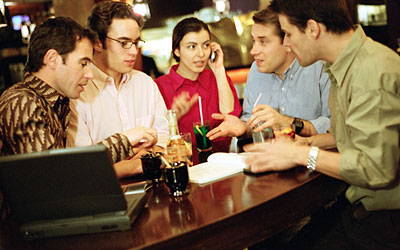 Hear from Gillette, Dow Chemical, AstraZeneca, The US Navy, Lowe's, Xerox, SAP, San Francisco International Airport and many more at Smart Labels USA 2003. A full conference day is dedicated to RFID users only discussing their needs or experiences with the technology, followed by a day with presentations from leading suppliers with case study examples and technology developments announced for the first time at this conference. Over 200 delegates are expected following last year's sell-out.
Smart Labels cover a huge spectrum of radically fast developing technologies and applications. In 2005 the global radio frequency identification (RFID) market is expected to be $5 billion (Source: IDTechEx Market Research) with exponential growth and use thereafter. The uses of the technology and their impact are tremendous - from improving supply chain efficiencies by a factor of ten to creating secure and more efficient airports, manufacturing and archiving. Beyond identification only, RFID is being combined with sensors to monitor the condition and status of items, and enables new markets and consumer benefits.
Smart Labels USA 2003 focuses on all these topics with users perspectives and experiences, case studies, technologies, challenges and the future. The industry is now gearing up with large orders beginning to be placed: this is the ideal event to attend for industry intelligence, technology knowledge and networking.
Hear from 31 speakers from 7 countries discussing their needs, experiences, case studies, technology and the future of RFID smart labels. A full day is dedicated to users, with speakers including Gillette, AstraZeneca, The US Navy, San Francisco International Airport, Procter & Gamble, Scottish Courage Brewing, Lowe's, IBM and a second day is devoted to leading suppliers such as SAP, Xerox, Savi Technology, Sun Microsystems, Dow Chemical, Infineon, ThingMagic and many more. Smart Labels USA 2003 is anticipated to have over 200 delegates following last year's sell-out with many already registered -- see www.idtechex.com for the latest list of companies who are attending.
Optional workshops are ideal for those wishing to learn about the technology and its uses from independent industry experts. These are informal, interactive and are steered towards attendee needs. Bring your problems and share your experiences. Three workshops cover RFID, Smart Packaging and Implementing RFID.
Further to this, new networking sessions this year will help to ensure you meet the people you want to at the event, and every delegate receives free access to our journals, conference proceedings with all presentation details, actual tag samples, white papers, free consultancy and attendance to the Meet the Experts dinner.
See www.idtechex.com for full details.