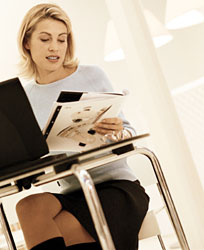 Traxus Technologies announced today an agreement to acquire RFID Wizards and BuyRFID.com for an undisclosed amount. RFID Wizards is a leader in independent radio frequency identification (RFID) consulting, technology evaluation and installation. BuyRFID.com is a leading online RFID superstore.
The merger allows Traxus to offer a comprehensive set of services to help companies prepare for and implement RFID technology and business solutions. The Traxus offerings provide companies with a sensible and phased approach to RFID deployment. The Company's offerings range from education and training programs to pilot design, installation, testing, full enterprise and supply chain integration and online RFID equipment purchasing.
"RFID Wizards is a recognized independent authority in the application of RFID technologies," said Eric Oganesoff, CEO, Traxus Technologies. "Combining RFID Wizards' applied expertise with Traxus' strategic and systems integration capabilities will provide our customers with practical, comprehensive, field tested RFID services and solutions. We are delighted to have RFID Wizards as part of the Traxus team."
"We believe that the time is now for companies to understand the impact of RFID and plan for adoption," said Louis Sirico, President of RFID Wizards. "Whether for compliance with buyer requirements, or for enhanced security capabilities, or for good old fashioned return-on-investment, having a solid adoption roadmap and experienced partners is key to insuring that a company realizes the benefits this technology brings in cost reduction, improved customer service and streamlined operations. The demand is escalating for RFID expertise, and together with Traxus Technologies we provide the most practical and comprehensive RFID services and solutions in the marketplace."
The RFID consulting company provides services to retailers, distributors, warehouse operators, manufacturers, and producers of consumer packaged goods. Traxus' services help companies prepare for emerging business requirements such as compliance with Wal-Mart and DOD requirements for RFID use as well and advanced product/asset tracking, inventory control, supply chain optimization and real-time business intelligence.
Through the proper use of RFID technologies, many companies have realized significant return-on-investment by increasing the speed of fulfillment, while simultaneously reducing inventory, out of stock items, shrinkage, theft, vendor fraud and labor costs. In June, executives at Wal-Mart, the world's largest retailer, called for their top 100 suppliers to implement an RFID system at the case and pallet level by 2005. In October, the Department of Defense issued a similar requirement to all of their suppliers by 2005.
RFID Wizards offers a broad range of RFID services ranging from ROI analysis and business process mapping to RFID systems installation and integration. In addition, RFID Wizards offers comprehensive and independent RFID product testing services.