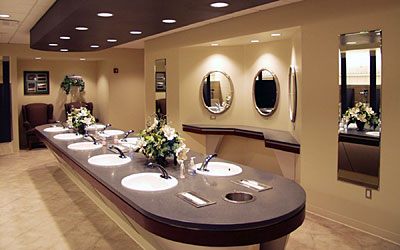 The finest restroom in America is at the airport in Fort Smith, Arkansas according to the 4th annual America's Best Restroom contest presented by Cintas Corporation.
The 2005 contest attracted nominations from businesses, theaters, and community colleges to hotels, restaurants, travel agencies, and airports. Ten finalists were selected based on exceptional hygiene, style, and open access to the public.
"The important message here is restroom hygiene matters -- for good health and good business," said Kirk Kirssin of Cintas. "People form perceptions about the way companies do business based on a simple trip to the restroom. That's something Cintas helps thousands of customers manage."
"Fort Smith is thrilled to be recognized by the Cintas America's Best Restroom Contest," said Director Kent Penney. "Our maintenance staff does an excellent job making sure that every part of our Airport is user-friendly -- including the restrooms. On average, Fort Smith's Regional Airport's restrooms are straightened-up every thirty minutes for our guests."
The restrooms make functionality a priority, as they easily handle the 500,000 customers annually. This year's winning restroom features touchless, hygienic fixtures, and recessed lighting provides a touch of elegance to the floral arrangements that line the countertops.
The Cintas America's Best Restroom Award was created in 2001 to honor businesses across the country that maintain exceptional hygiene, with style, in their public restrooms. The top five vote-getters will be listed in the Best Restroom Hall of Fame.
Cintas designs and manufactures corporate identity uniform programs and provides branded entrance mats and restroom supplies.