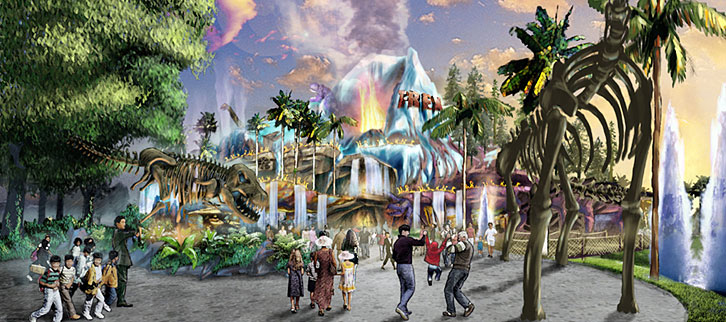 Landry's Restaurants acquired eighty percent of the restaurant concept T-Rex: A Prehistoric Family Adventure, A Place to Eat, Shop, Explore and Discover from Schussler Creative for approximately 7.6 million dollars.
T-Rex is an attraction that features dining and retail in an interactive prehistoric environment. The concept is built around water, fire and ice. Guests visiting T-Rex will be greeted with life-sized animatronic dinosaurs that live among cascading waterfalls, bubbling geysers, and a fossil dig site.
The first is slated to open this spring in The Legends Mall in Kansas City with another opening in Downtown Disney Florida in early 2008.
In addition to the T-Rex concept, Landry's has acquired a majority interest in Asia, Schussler Creative's new eatery that is expected to open by summer 2007 inside Disney's Animal Kingdom Theme Park. Asia will offer full-service and quick-service dining in a setting reminiscent of the western Himalayan foothills in India and Nepal, featuring a rural village called Anandapur in a jungle with a tiny town-like section at its center. This Asian-fusion concept will feature detailed decor complete with antiques, as well as a retail component that will offer Asian goods ranging from sushi plates to fine teapots.
"One of the major factors that drew us to this transaction was the chance to expand our operations with Disney," said Landry CEO Tilman J. Fertitta. "Our existing three Rainforest Cafes located at Downtown-Disney, Disney's Animal Kingdom Theme Park and Disneyland Resort in California generate approximately $80 million in revenue. We feel that the T-Rex and Asian theme concepts are a perfect fit with Disney's unmatched entertainment offerings."
Schussler Creative Chairman Steve Schussler was the founder and creator of the popular Rainforest Cafe restaurant concept, which Landry's purchased in 2000. Rainforest Cafe has since grown to be one of the most successful Landry's concepts.
"Landry's is the perfect strategic partner to turn our dream into an ongoing reality," said Steve Schussler. "Landry's has done an excellent job of maintaining the Rainforest Cafe brand as the premier themed eatery in the world. T-Rex uses elements familiar to Rainforest Cafe fans such as animatronics and special effects to create a whole new type of dining experience that takes visitors back in time in an educational and entertaining way."