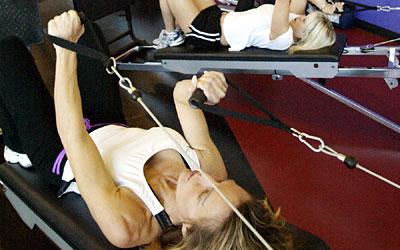 30 minute workouts are the hottest fitness movement sweeping the country and efi Sports Medicine's Gravity System is building more than muscle at clubs nationwide: it's building excitement among health club members by combining an all-in-one functional, resistance training machine -- GTS -- with 30-minute total body strength training classes.
GTS is a gravity-training machine that uses an individual's body weight as resistance with a cable and pulley system and a free-motion glideboard. Approachable and non-intimidating, GTS invites you to work with it, rather than against it. It engages all major muscle groups, never locking you into an isolated position and facilitates more than 250 exercises.
Able to adjust to eight different levels of resistance, it's ideal for novice exercisers, and challenging for those looking to strengthen and sculpt the body.
The Gravity System was piloted at Crunch Mission Viejo by Rob Glick, regional group fitness director for Crunch Mission Viejo and member of efi's development team for the Gravity System. Says Glick, "members are enthusiastic about its variety of programming -- especially since they can get their entire workout done quickly in one place, on one machine."
"This system is a real bonus for our members," said Sarah Kinel, fitness director, The Jungle Club in Vero Beach, Florida. "It is terrific for people who are intimidated by large machines, free weights, and for those who like a group setting. Many members who didn't have time to strength train before can now enjoy maximum benefits with a shorter time commitment. GTS allows you to quickly move from one exercise to another; lets your muscles stretch and contract within the same movement pattern, and facilitates functional resistance, resulting in a fun and efficient 30-minute workout."
Pilates, Personal Training and Post-Rehab programs are also offered with the Gravity System. "This makes Pilates more accessible to the masses," says Glick, "and makes personal training sessions in small groups affordable."
The GTS provides an excellent form of functional exercise, which the American Council on Exercise (ACE) cites as one of 2004's most important fitness trends. According to ACE, functional resistance training " ... focuses on exercising several muscles and joints together rather than working a particular muscle or group of muscles in isolation. This approach to strength training will result in individuals being able to perform their daily activities and recreational pursuits with greater ease and less discomfort." It's like "sports-specific" training for everyday activity, says ACE's Christine Ekeroth.
The Gravity System recently won ECA World Fitness' OBOW award for Best New Product Innovation less than one year after its launch. ECA World Fitness is an international organization dedicated to furthering the education of health and fitness professionals.
efi Sports Medicine (now Total Gym) manufactures functional exercise equipment. "Our goal," says President and CEO Tom Campanaro, "is to manufacture and deliver quality products that help people achieve health, fitness, and rehabilitation goals."