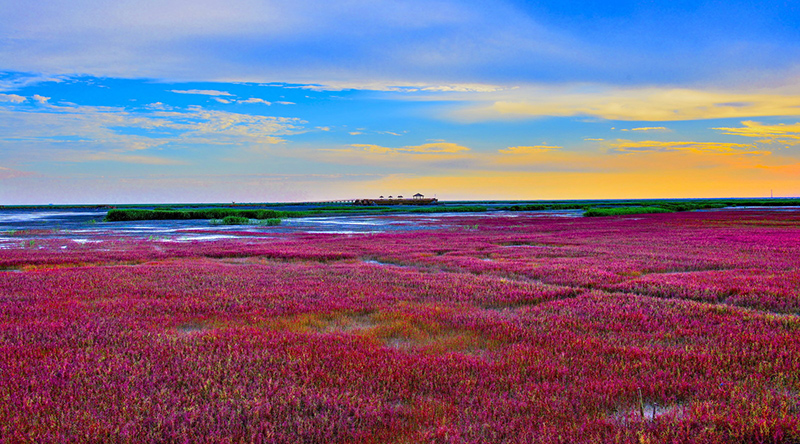 Red Beach, located in Dawa County, Panjin, Liaoning, China, is famous for its landscape featuring the red plant of Suaeda salsa of the Chenopodiaceae family. It is based in the biggest wetland and reed marsh in the world. The landscape is composed of shallow seas and tide-lands. Panjin Shuangtaizi River mouth state-level nature protection area preserves the most completed ecosystem and the biggest wetland in the world. More than 260 kinds of birds and 399 kinds of wild animals live in it.
What is the Best Season to Visit Red Beach China?
Best Season to Visit Red Beach China: At the end of September, Red Beach has entered its best season. The seepweed growing along its shoreline has taken on a crimson red hue while flocks of birds hover above the water, chirping between the reeds. This landscape in Panjin City of Liaoning Province is one of the earliest exemplary destinations in China for wetland tourism and boasts a distinctive beauty.
How did Red Beach get its name?
The red color of the marshland is rare as seepweed common to coastal areas is green. A recreational wooden path has been built for tourists to mingle with waterfowls, enjoy the fantastic wetland views, and experience local culture.
In this land of fish and rice, an exclusive culinary culture has been developed over the years. Winter fishing is held every year in nearby Wolong Lake. For local residents, the event is an expression of their attachment to the river.
The wetland provides an excellent environment for rice. With mitten crabs dwelling in the paddy fields, the single-season rice there has a growing period of 186 days. This rice was designated as the official rice of the 2008 Beijing Olympics Games.
Cattail bamboo shoots, pusun in Chinese, is a plant native to the lower reaches of the Liaohe River. Pusun is very sensitive to its environment, it can only grow wild and has a very low yield. The nutrient-rich food is enjoyed by many.
Panjin is a famous oil city. Even though rows of derricks and extraction equipment are close by, clean production practices keep the area pristine.
Red Beach is a getaway where vacationers can experience ecological agriculture. Specializing in the use of bio-energy, the resort offers environment-friendly rural scenery.