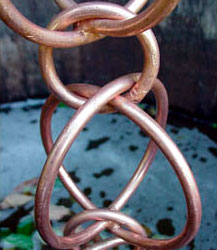 Over the past several years the kusari doi or rain chain, has been taking the outdoor garden and patio market by storm. These uniquely crafted chains are quickly becoming a garden staple in homes all over the United States.
These artistically crafted links of copper that allow rain to be enjoyed as it gently flows down and around the chain like a vertical fountain effect while stimulating the senses with sounds of gurgling water. These functional chains do exactly what downspouts do, but they do it in a way that brings pleasure and delight.
The rain chain first originated in Japan hundreds of years ago and was developed primarily out of need. These beautiful ornaments serve a more practical use very similar to our common downspout. The rain chain was created as a style of downspout to guide rainwater into large pots for garden and household purposes. As the fresh water collected; it was used to wash clothes, dishes, and to cook. Even today, these decorative rain chains are found on homes, temples and business throughout Japan for not only their function and visual gratification but also their "feng shui" appeal.
Rain chains are normally crafted of copper, including the actual links and the hardware, providing for durability and simple assembly. Copper is the most popular material for fabrication due to its initial visual appeal and the beautiful way in which it ages into a verdigris patina. Among popular chain styles is the kiku chain, inspired by the chrysanthemum flower. This has special importance in the Japanese garden for it is the official crest and symbol of the Japanese imperial family. There is also a scalloped square chain which has a box-like shape featuring scalloped tops and bottoms, and different styles of interlocking chains.
Rain chains can be easily installed by insertion into the rain gutter drain hole or on a corner eave of the home. Links connect and disconnect with ease to fit any length required. The means to recreate the serenity found in Japanese gardens is ready and available for the American home.