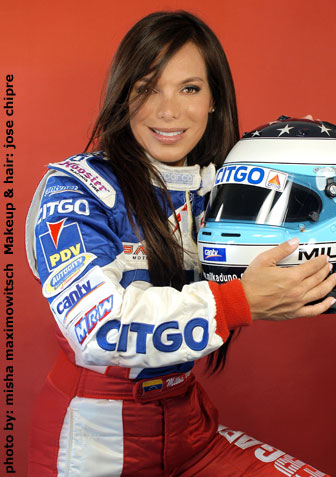 Milka Duno will compete in the 2007 IndyCar Series with Samax Motorsport. Duno will drive the Number 23 Citgo Racing / Samax Motorsport Dallara / Honda /Firestone in ten IndyCar Series events this season, including the Indianapolis 500.
In her first race of the 2007 Rolex season, Milka recorded a second place finish in the legendary Rolex 24 of Daytona, posting the highest finish ever by a female driver in the 45-year history of the race. It was also the highest finish by a female driver in a major race at Daytona International Speedway.
Duno begins her Indy Car Series campaign after three successful years competing in the Grand American Rolex Series. In 2004, Milka Duno became the first woman in history to win a major international sportscar race in North America by capturing the overall win with Andy Wallace at the Grand Prix of Miami at Homestead-Miami Speedway. In her Rolex Series career, Duno has posted three wins, seven podium appearances, 10 top-five finishes, and 26 top-10 finishes.
"I've always wanted to race in the Indianapolis 500 and in the IndyCar Series, and I can't begin to thank Citgo for continuing to support my racing, as well as everybody at Samax Motorsport," said Milka. To make this announcement in my hometown of Miami with my family and friends and fans around me is terrific."