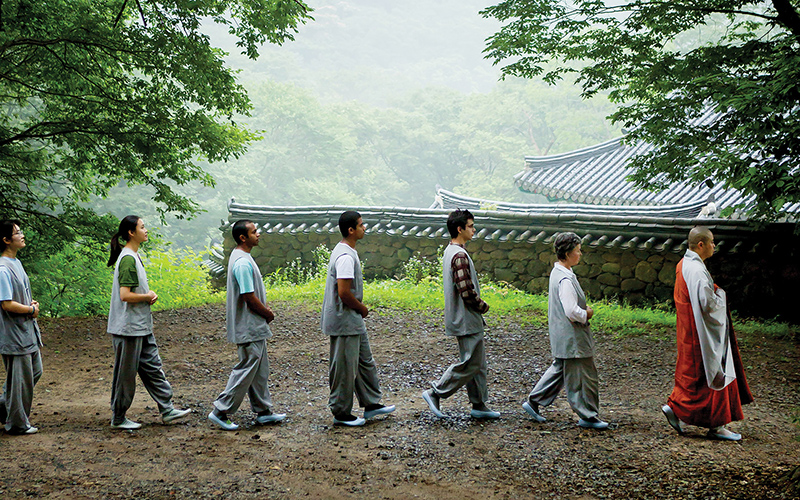 Pyeongchang is a county in Gangwon province of South Korea located in the Taebaek Mountains region. It is home to several Buddhist temples, including Woljeongsa. It is approximately 110 miles east of Seoul, the capital of South Korea. Pyeongchang will host the 2018 Winter Olympics.
The Cultural Corps of Korean Buddhism has successfully completed its Templestay and Temple food exhibition, experience and lecture on the theme of Pyeongchang Winter Olympics with Templestay in New York, the city of global culture, from September 24 through 30, 2017.
In addition, the mascots of Pyeongchang Winter Olympic Games, Soohorang and Bandabi, gave local New Yorkers opportunities to promote 2018 Pyeongchang Winter Olympic Games and to take photographs at the same time.
On the other side of the event, people from government, business, arts and culture, media and prominent chefs attended the temple food banquet. A variety of temple foods such as porridge with potato matzo balls, buckwheat crepes, seasoned were airlifted from Gangwon-do Province.
On September 29, Ven. Beopsong's special lecture about temple food was held at Culinary Institute of America. About 100 professors and students attended the lecture with huge interest and enthusiasm for the temple food. There were lots of thoughtful questions about traditional recipe for temple food and the characteristics of temples from students. In addition, Michael Pardus, a professor of Asian food, thanked Ven. Beopsong and the staff of Cultural Corps of Korean Buddhism serving kimchi noodle soup, soy sauce and local special fruits.
The Cultural Corps of Korean Buddhism has been hosting a biannual temple food promotional event in New York since 2010. This year's event was particularly designed to emphasize awareness of Pyeongchang Winter Olympics 2018.