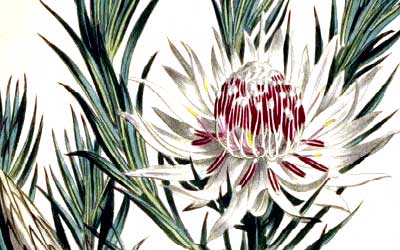 The exotic Protea flower, native to South Africa and Australia, is fast taking its own place of honor within the trend-setting Hollywood community.
Most noted for its dramatic, long-lasting beauty and seemingly infinite variety of colors, the Protea is normally found in high mountain regions of South Africa and Australia. Located in the midst of the Central California wine region, Gaviota-based Ranch of the Golden Hawk sent its experts to study the flower's native conditions, an enviable blend of dark soils and sustaining moistures, and has found them in California enabling the delicate Protea to become a rising star within the ultra-competitive North American floral market.
"We are very protective of the expertise and care that Protea requires to thrive in North America," says Ranch of the Golden Hawk and Protea Flowers President Larry Jones. "We're thrilled at the excitement our customers experience with their arrangements. Each call and letter we receive tells us that we are providing something of unique style, superior quality and most importantly, great satisfaction, to an exacting clientele."
"All our houseguests, whether it is family or friends, actors or business associates, make flattering comments upon seeing our spectacular Protea floral arrangements," says Hollywood producer and former NBC chief Warren Littlefield. "That one-of-a-kind uniqueness is the Holy Grail that everyone in Hollywood strives to achieve."
Littlefield isn't the only high-profile Hollywood executive to discover Protea. He's joined by industry colleague Perry Simon, President of Viacom Productions, and the celebrity roster of powerhouse entertainment attorney Bob Wallerstein, as Protea admirers.
Given its newfound reach into Hollywood culture and horticultural success, Ranch of the Golden Hawk's Protea Flowers has recently begun an exclusive Protea Club to provide new and recurring fans trend-setting bouquets as often as they like.
"The Protea Club provides a different beautiful flower arrangement delivered to my home and office every three weeks," noted Littlefield. "People comment on the arrangements as soon as they arrive, and we all know how important it is to stand out in this town."
Ranch of the Golden Hawk, the nation's only totally exclusive organic producer of the rare Protea flower, is located 35 miles north of the lush Santa Barbara and Montecito coast that entertainment's best, brightest and most powerful claim for their weekend playground. This convergence has exposed the flower to a unique, upscale audience, thus prompting a recent upsurge in the frequency with which one now sees the lance-petaled Protea throughout on-set trailers, Hollywood homes and Beverly Hills office suites.
Ranch of the Golden Hawk's Protea Flowers offers over 120 varieties of Protea flowers in a wide spectrum of colors, representing the widest assortment currently available anywhere in the United States. Its varieties range from large Kings and multi-colored pincushions, to numerous different Leucadendron, Banksias, Pink Minks, Yellow Birds, Cordifolium, Red Sunsets, Veldfires, Laureolum, Maui Sunsets, Red Devils and Blushing Bride.