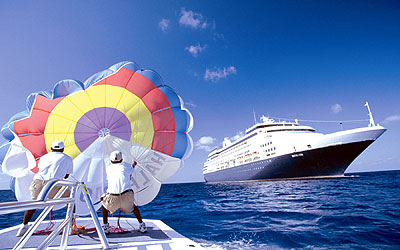 Holland America announced today that they will add several exciting activity choices to Half Moon Cay, the exclusive private island paradise available only to Holland America and Windstar guests. Enhancements such as a horseback riding and swimming tour, a stingray adventure program, a WaveRunner park and an aqua park will fuel guests' sense of adventure. These new activities provide even more ways for guests to experience the warm sun, white sandy beach and turquoise waters of this Caribbean island retreat and enjoy exciting sporting activities. All of these activities are scheduled to be completed by the end of 2004.
The highest rated port of call on Holland America's Caribbean itineraries, Half Moon Cay is located on 45 acres of the 2,400-acre Little San Salvador Island, an international sanctuary for bird-watching. It is a destination on all Caribbean itineraries and on Panama Canal cruises sailing roundtrip from Fort Lauderdale. For the past four years, Half Moon Cay has won the Annual Editor-in-Chief Award for "Best Private Island" from Porthole Cruise Magazine.
Holland America goes to great lengths to help protect the natural ecology of the island. The cruise line worked directly with the Bahamian government to ensure that the new facilities were designed to minimize the environmental impact and preserve this island paradise in a manner consistent with its natural beauty.
"Holland America developed Half Moon Cay to provide our guests the ultimate Caribbean private island experience," said David A. Giersdorf, executive vice president, marketing and sales. "These new activities were designed to offer a sense of exploration, discovery and adventure that helps bring this exclusive, unforgettable destination to life."
Beginning this fall, a new Horseback Ride 'n Swim excursion will allow guests to explore the island's natural beauty on trails that are accessible only by horseback. Guests will be taken by jitney to stables at the center of the island where they will get a brief orientation before saddling up on these specially trained horses. During the ride, guides will share insight on Bahamian history, people and culture. The trail will lead guests to a deserted beach where they enjoy refreshments and can take an unforgettable swim in the sea with the horses.
For those who prefer to get a closer look at the private island's incredible sea life, the new Stingray Adventure Program will offer guests the opportunity to swim or snorkel with these gentle and mysterious creatures in a secluded cove, which is part of a beautiful 700-acre lagoon. The program will start with an informative session from an expert lecturer on the Southern Stingrays and other marine life living in the lagoon. Under the direction of tour guides, guests can interact with and feed the stingrays. The Stingray Adventure Program will also be available by fall of 2004.
This summer, a new WaveRunner tour will take guests along the island's picturesque shoreline, navigating around natural reef locations and stopping at a sandy beach for refreshments and a discussion of the region's rich history and culture. The tour will continue to an active reef where guests can swim with and feed schools of beautiful tropical fish. A highlight will be the new WaveRunner park that includes a series of courses that allow guests to test their skills. This park will be located in a separate area of the beach that is removed from the island's other activities.
Half Moon Lagoon, designed especially with kids in mind, is a fun-filled aqua park conveniently located on the shore of Half Moon Cay's main beach that will provide Island-themed action and adventure in the sun. Half Moon Lagoon will be ready for action by the end of 2004. These new activities augment Half Moon Cay's extensive array of existing excursions including scuba diving tours to explore the marine life, catch-and-release deep sea fishing trips in the island's beautiful waters, eco tours by glass-bottom boat or kayak and parasailing. Other features for guests to enjoy on Half Moon Cay include an aqua-sports center, a fully-equipped Club HAL children's playground, beach chairs, volleyball, shuffleboard, basketball, a network of nature trails and a designated wild bird reserve. Guests can also rent an air-conditioned, private beach-front cabana for the day, have a beachside massage, and then enjoy traditional barbecue fare.
Holland America is investing $225 million in the Signature of Excellence initiative to provide unparalleled product and service enhancements to its fleet of five-star ships. Signature of Excellence will build on Holland America's renowned tradition of excellence by significantly raising the standard in premium cruising. The comprehensive enhancements will focus on five areas central to the Holland America guest experience: spacious, elegant ships and accommodations; sophisticated five-star dining; gracious, unobtrusive service; extensive enrichment programs and activities; and compelling worldwide itineraries. Enhancements have been started and are expected to be completed by the end of 2006.
Holland America excels in service, amenities and special programs. Dining choices include formal elegance, alternative specialty dining in the Pacific Northwest-themed Pinnacle Grill, casual fare and complimentary 24-hour room service.